Upload your videos
Once your video is edited, it's time to upload it to the TEDx YouTube channel using our Media Uploader. We'll walk you through how with these instructions, and point out some important rules to remember.
How to upload your videos
Before You Start
The TED Media Uploader is accessible to TEDx licensees only. You must log in using the same TED.com profile that is registered with your TEDx license.
A TEDx licensee can grant guest access to an individual to upload on their behalf; however, only one guest invitation is valid at a time per organizer. Guest access is valid for one month. All users (even guests) must have a TED.com profile.
You will not be able to upload your videos with the TED Media Uploader tool until your event's date, duration, and venue location is listed on your event page. This includes start/end time, state/province and all venue details. Once these details are filled in, please make sure that the red dot appears on the map below. Once these details are filled in you will be able to access the Uploader.
Instructions
Log in to the TED Media Uploader. If you do not have access to the Uploader, please contact support.
Once you have logged in, select the event that you wish to upload for. If you do not see the correct event or date, email tedxpostevent@ted.com.
Click "Upload Video" to upload a new file. (Note: You can only upload one video at a time.)
Follow the instructions on the next page. Select the file you are uploading, and fill in all the required fields. This includes speaker name, speaker bio, topic, and tag(s). You don't need to include the standard TEDx disclaimer to your video description -- this will be added automatically to each upload.
Click "Upload."
What Now?
Add your playlist of videos to your event page. A playlist is automatically created on our TEDx Talks Youtube channel when you upload your first video. Visit our channel and search for your TEDx event name. Add this URL to your event page.
Subtitle your videos to reach a wider audience! TEDx Talks can be transcribed and translated through the TED Translators program. Follow these five steps to get started.
Having trouble?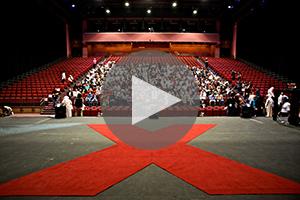 ---
Rules to remember
Do not upload your talk video files to any other video sharing platform. TEDx Talks belong on the official TEDx YouTube channel.
Make sure you've reviewed our video editing guidelines for your pre-roll animation and sponsor slide.
Aim to upload your videos within one month of your TEDx event. If you run into any significant delays, let us know by email at tedxpostevent@ted.com. Remember: you are responsible for communicating with your speakers - also let them know of any significant delays. Videos must be uploaded before your license can be renewed.