TED Translators

TED Translators are volunteers who subtitle TED Talks to help disseminate knowledge, research and big ideas across languages and borders.
History
The idea of translating TED Talks came about by popular demand. Passionate viewers around the world started asking if they could translate talks in order to share their favorite ideas and impressive research with friends and family. (Some were even sending us finished translations!) Recognizing a real need — and an opportunity to radically open accessibility — TED developed a system to allow volunteers to translate their most-loved talks into any language.
The program launched in 2009, with 300 translations in 40 languages, created by 200 volunteer translators. Today, more than 220,000 translations have been published in 115 languages (and counting), created by more than 46,000 volunteers. In 2012, the program expanded to include the transcription and translation of TEDx Talks, the translation of TED-Ed lessons and the translation of content distributed by worldwide partners who help grow TED's global footprint.
---
Translate!
Help bring TED into your language.
---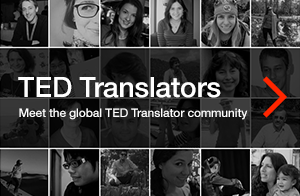 ---
Stats
115 languages
49,250 translators
229,302 translations