TED Book: The Misfit's Manifesto
A beautifully written field guide to being weird.

—Kirkus Reviews
The Misfit's Manifesto
by Lidia Yuknavitch
By reclaiming and celebrating the word misfit, this manifesto makes a powerful case for not fitting in—for recognizing the beauty, and difficulty, in forging an original path.
---
Watch the companion TED Talk
---
---
About the book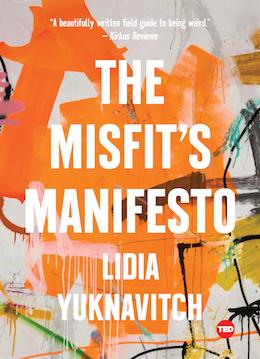 Misfit—it's such a literal word. A person who missed fitting in, a person who fits in badly, or this: a person who is poorly adapted to new situations and environments. It's a shameful word, a word no one typically tries to own. Until now.
Lidia Yuknavitch is a proud misfit.
That wasn't always the case. It took her a long time to come to, not simply accept, but appreciate her misfit status. Having flunked out of college twice (and maybe even a third time that she's not going to tell you about), with two epically failed marriages under her belt, an episode of rehab for drug use, and two stints in jail, Lidia felt like she would never fit in, like she could never become the writer she wanted to be.
Today, Lidia is a wildly successful writer and teacher—a mother and a wife. But she is still, unquestionably, a misfit.
This book is written for anyone who has ever felt like she was messing up—like she doesn't fit in or can't ever seem to find the "right" path. It's a love letter to the misfits, like Lidia. It won't tell you how to stop being a misfit—quite the opposite. In her charming, poetic, funny, and frank style, Lidia will reveal why being a misfit is not something to overcome, but something to embrace. But Lidia also encourages her fellow misfits not to be afraid of pursuing goals, how to stand up, how to ask for the things they want most. Misfits belong in the room, too, even if their path to that room is bumpy and winding.
Misfits, from my point of view, are everything. The world needs us.
---
Press and reviews
"A beautifully written field guide to being weird."
—KIRKUS REVIEWS
"IF THE ROAD YOU CAME IN ON LED THROUGH SEVERAL HELLS and you walked it more alone than you'd ever want anyone to be, if you were a wolf who chewed off her own leg to escape where you started out, if you paved the road with broken things and crawled in on your knees, this is your book, full of your people. Welcome home."
—REBECCA SOLNIT, author of Hope in the Dark
"Fellow misfits, breathe a sigh of relief: We're not alone. In fact, we have a proud standard-bearer in Lidia Yuknavitch, who eloquently mounts this appreciation of the weird, the maladapted, and the outsider-identifying. Drawing from her own history—of flunk-outs, divorce, drug use, and failure—Yuknavitch encourages oddballs to smell the strange roses."
—ELLE Magazine
Read an interview in Salon : Lidia Yuknavitch and the misfit's hero's journey
Here's an excerpt in LitHub : The Time I Snuck Into Ken Kesey's Fiction Class
An excerpt in TED Ideas : It's a myth that suffering makes you stronger
On OPRAH.com : A Mantra to Live By
---
About the author
Lidia Yuknavitch is the bestselling author of the novels The Book of Joan, The Small Backs of Children, and Dora: A Headcase, and the memoir The Chronology of Water. Her acclaimed TED Talk "The Beauty of Being a Misfit" has nearly 2 million views. She writes, teaches, and lives in Portland, Oregon.
Photo: Andrew Kovalev