TED Book: Broken Spaces & Outer Places
Okorafor's gripping account of her recovery will inspire any reader.

—Publishers Weekly
Broken Spaces & Outer Places: Finding Creativity in the Unexpected
by Nnedi Okorafor
A powerful journey from star athlete to sudden paralysis to creative awakening, award-winning science fiction writer Nnedi Okorafor proves that what we think are our limitations have the potential to become our greatest strengths.
---
---
About the book
Nnedi Okorafor was never supposed to be paralyzed. A college track star and budding entomologist, Nnedi's lifelong battle with scoliosis was just a bump in her plan—something a simple operation would easily correct. But when Nnedi wakes from the surgery to find she can't move her legs, her entire sense of self begins to waver. Confined to a hospital bed for months, unusual things begin to happen. Psychedelic bugs crawl her hospital walls; strange dreams visit her nightly. Nnedi begins to put these experiences into writing, conjuring up strange, fantastical stories. What Nnedi discovers during her confinement would prove to be the key to her life as a successful science fiction author: In science fiction, when something breaks, something greater often emerges from the cracks.
In Broken Places & Outer Spaces, Nnedi takes the reader on a journey from her hospital bed deep into her memories, from her painful first experiences with racism as a child in Chicago to her powerful visits to her parents' hometown in Nigeria. From Frida Kahlo to Mary Shelly, she examines great artists and writers who have pushed through their limitations, using hardship to fuel their work. Through these compelling stories and her own, Nnedi reveals a universal truth: What we perceive as limitations have the potential to become our greatest strengths—far greater than when we were unbroken.
A guidebook for anyone eager to understand how their limitations might actually be used as a creative springboard, Broken Places & Outer Spaces is an inspiring look at how to open up new windows in your mind.
Growing up, most science fiction novels and films presented bold white male-dominated worlds where I knew I could never exist on my own terms.
---
About the author
Nnedi Okorafor is a Nigerian-American author of African-based science fiction, fantasy, and magical realism for children and adults. Her works include Who Fears Death (currently being developed by HBO into a TV series), the Binti novella trilogy (currently being developed by Hulu into a TV series), the Book of Phoenix, the Akata books, and Lagoon. She is the winner of Hugo, Nebula, World Fantasy, Locus, and Lodestar awards, and her debut novel Zahrah the Windseeker won the prestigious Wole Soyinka Prize for Literature.
Nnedi has also written comics for Marvel, including Black Panther: Long Live the King and Wakanda Forever, featuring the Dora Milaje and Shuri characters. She is also the writer of the science fiction comic series published by Dark Horse called LaGuardia. She lives with her daughter Anyaugo and family in Illinois. Follow Nnedi on twitter (as @Nnedi), Facebook, and Instagram. Learn more about Nnedi at Nnedi.com.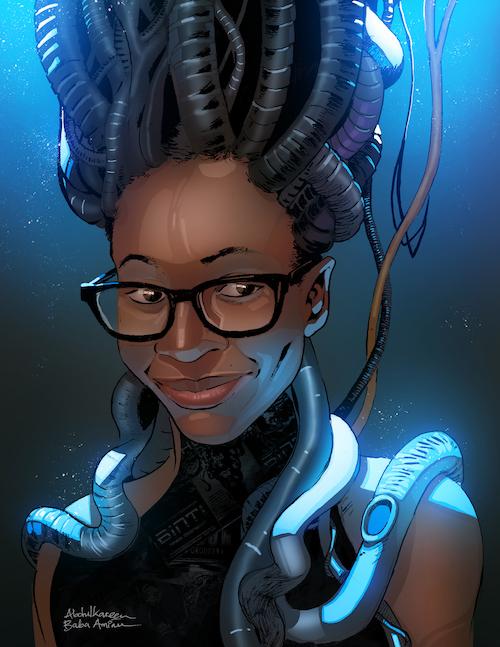 Illustration: Abdulkareem Baba Aminu