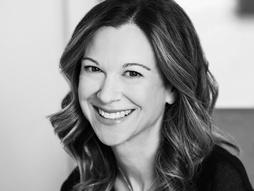 Lori Gottlieb
Psychotherapist, author
Lori Gottlieb asks: What if the stories we tell ourselves are wrong?
Why you should listen
Lori Gottlieb is a natural storyteller -- and no wonder. She has crafted stories for film and television series as Hollywood executive, delved deep into her subjects' stories as a nationally recognized journalist and has helped people to change their stories through her weekly "Dear Therapist" column for "The Atlantic" and her clinical work as a psychotherapist. 
In her latest New York Times bestselling book, Maybe You Should Talk to Someone, which is currently being adapted as a television series with Eva Longoria, she tells the stories of four of her patients, along with a fifth patient -- herself. She also serves as a member of the Advisory Council for Bring Change to Mind and as an advisor to the Aspen Institute, and she appears as a frequent expert on emotional health in media such as The Today Show, Good Morning America, The CBS Early Show, CNN, and NPR's "Fresh Air." Her new podcast, which will premiere in 2020, will be co-hosted with fellow TED speaker Guy Winch and executive produced by Katie Couric.
Lori Gottlieb's TED talk