TED Fellows Program
The TED Fellows program provides transformational support to a global network of 400 visionaries – scientists, artists, activists, entrepreneurs, doctors, journalists and inventors – who collaborate across disciplines to create positive change around the world.
How it works
Program resources
The results
---
There are several ways you can participate in this unique program:
Apply to become a Fellow
Are you one of the next generation of innovators with potential to positively affect the world?
Support the TED Fellows program
Feeling inspired and want to get involved? Learn all about how to support the Fellows program.
Meet the TED Fellows
Get to know this group of 400 visionaries in their field.
Get involved
Learn how you can participate in the TED Fellows Program.
---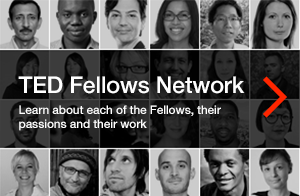 ---