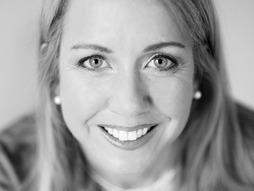 Meg Jay
Clinical psychologist
In her book "The Defining Decade," Meg Jay suggests that many twentysomethings feel trivialized during what is actually the most transformative — and defining — period of our adult lives.
Why you should listen
Lately it feels as if 25 is just a bit too young to get serious. In her psychology practice, and her book The Defining Decade, clinical psychologist Meg Jay suggests that many twentysomethings have been caught in a swirl of hype and misinformation about what Time magazine calls the "Me Me Me Generation." The rhetoric that "30 is the new 20," she suggests, trivializes what is actually the most transformative period of our adult lives.
 
Drawing from more than ten years of work with hundreds of twentysomething clients and students, Jay weaves science together with compelling, behind-closed-doors stories. The result is a provocative, poignant read that shows us why, far from being an irrelevant downtime, our twenties are a developmental sweetspot that comes only once.  Our twenties are a time when the things we do -- and the things we don't do -- will have an enormous effect across years and even generations to come.
Jay is a clinical psychologist who specializes in adult development, and in twentysomethings in particular. She is an assistant clinical professor at the University of Virginia and maintains a private practice in Charlottesville, Virginia.  She spent her own early twentysomething years as an Outward Bound instructor.
What others say
"A four-alarm call for the 50 million 20-somethings in America." — Kirkus Reviews
Meg Jay's TED talk
More news and ideas from Meg Jay
We humans
A teacher, psychologist, crisis-line supervisor and others share their suggestions for what you can do.
Continue reading
Impact of Ideas
Update: As of January 25, 2016, the Coxless Crew made it to Australia, covering 8,446 miles over the span of 257 days at sea. Congratulations! Your 20s: are they an extended adolescence, or the critical setup for adult life? After watching Meg Jay's TED Talk, "Why 30 is not the new 20," 27-year-old Lizanne Van […]
Continue reading
We humans
Meg Jay caused a storm after she gave her TED Talk in 2013. What got people so hot under the collar? Her thesis that one's 20s are not a throwaway decade, and that planning for life needs to start happening ... right now. Here, the talk gets a cool graphic treatment from Superinteressante magazine.
Continue reading