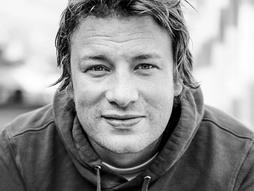 Jamie Oliver
Chef, activist
Jamie Oliver is transforming the way we feed ourselves, and our children. The winner of the 2010 TED Prize, he's on a mission to teach every family about eating better and living healthier lives.
Why you should listen
Jamie Oliver has been drawn to the kitchen since he was a child working in his father's pub. He showed not only a precocious culinary talent but also a passion for inspiring people to eat fresh, honest, delicious food. While serving as sous chef at the River Cafe in London, the BBC took note of him. His series, The Naked Chef, debuted in 1999. In the years since, he has built a worldwide media empire of TV shows, books, cookware and magazines, all based on a formula of simple, unpretentious food that invites everyone to get busy in the kitchen. 
As much as Oliver's cooking is generous, so is his business model. The Jamie Oliver Food Foundation trains young chefs from disadvantaged backgrounds to work in his restaurants and runs an extensive gardening program that teaches children where food comes from. Series like Jamie's School Dinner, Jamie's Ministry of Food and Jamie Oliver's Food Revolution combine his work in the kitchen with serious activism and community organizing -- to create change on both the individual and governmental level.
Oliver uses his fame and charm to highlight the changes people need to make in their diet and lifestyles. With the 2010 TED Prize, he set the vision for Jamie's Food Revolution, a global campaign to educate kids about food and inspire families to cook again. More than 750,000 people have signed up to be a part of it. At the same time, Oliver continues to advocate for policy changes, like sugar reduction and clearer food labeling. 
Jamie Oliver's TED talk
More news and ideas from Jamie Oliver
We humans
Activist chef Jamie Oliver talks about the future of food.
Continue reading
Culture
Jamie Oliver's third annual Food Revolution Day is tomorrow on Friday, May 16. This year, among the many other food-filled activities lined up, the healthy eating activist and 2010 TED Prize winner is looking to break the Guinness World Record attempt for the 'Most participants in a cookery lesson in 24 hours.' The current Guinness World Record stands […]
Continue reading
News
Tomorrow is a holiday, and one you can celebrate simply by eating. Jamie Oliver, who won the TED Prize in 2010, has declared May 17 as Food Revolution Day. His vision: that people gather in homes, schools, workplaces and social spaces to share their culinary knowledge, cook together and simply enjoy each other's company as they […]
Continue reading