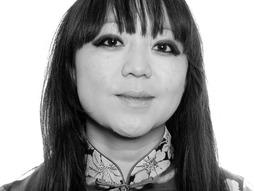 Candy Chang
Artist, designer, urban planner
Candy Chang creates art that prompts people to think about their secrets, wishes and hopes — and then share them. She is a TED Senior Fellow.
Why you should listen
Candy Chang is an artist, designer, and urban planner who explores making cities more comfortable and contemplative places. She believes in the potential of introspection and collective wisdom in public space to improve our communities and help us lead better lives.
Recent projects include Before I Die, where she transformed an abandoned house in her neighborhood in New Orleans into an interactive wall for people to share their hopes and dreams -- a project The Atlantic called "one of the most creative community projects ever." Other projects include I Wish This Was, a street art project that invites people to voice what they want in vacant storefronts, and Neighborland, an online tool that helps people self-organize and shape the development of their communities. She is a TED Senior Fellow, an Urban Innovation Fellow, and was named a "Live Your Best Life" Local Hero by Oprah magazine. By combining street art with urban planning and social activism, she has been recognized as a leader in developing new strategies for the design of our cities. She is co-founder of Civic Center, an art and design studio in New Orleans. See more at candychang.com.
Coming up: Before I Die ... the book!
Candy Chang's TED talk
More news and ideas from Candy Chang
We humans
8 TED speakers show you how to nudge your mind toward the sunny side
Continue reading
Art
When artist and TED Fellow Candy Chang first installed "Before I Die" — a public artwork that invites passers-by to share their life's wishes on the side of an abandoned New Orleans building — she had no idea that the project would become a global phenomenon. Over the last two and a half years, people […]
Continue reading
Fellows Friday
At the recent TED Fellows Retreat in Whistler, Canada, artist Candy Chang set up an interactive art piece called Confessions that invited the 185 Fellows at the event to share. The installation asked each Fellow to write down a confession on a slip of paper and pin it up on a bulletin board, creating a public wall of admissions […]
Continue reading