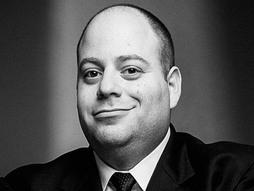 Adam Sadowsky
Creative entrepreneur
As the president of Syyn Labs, Adam Sadowsky merges art and technology to create interactive projects big and small.
Why you should listen
Adam Sadowsky is the president of Syyn Labs -- a collective of talented people that bring aesthetics and engineering together to create really nifty interactive art. Syyn Labs is responsible for a potpourri of interesting gizmos, from augmented reality namebadges to sound-reactive fire sculpture, but are best known for the huge Rube Goldberg machine created for OK Go's music video "This Too Shall Pass" that instantly went viral via YouTube.

In addition to engineering interactive art, Sadowsky serves as COO for the popular Mindshare LA events, where people across disciplines come together every month to share ideas (thought up while the founders were at TED2005).  He is also the co-founder and vice president of the IBD Foundation, providing support to people with Crohn's Disease and Ulcerative Colitis, having been diagnosed with the latter in 1984. Sadowsky has also worked in software, product design, video games, genetics research, online auctions and even had quite a successful acting stint, sharing the TV screen with both Jason Bateman and Matthew Perry.
Adam Sadowsky's TED talk