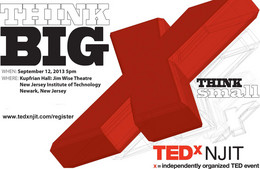 In the spirit of ideas worth spreading, TEDx is a program of local, self-organized events that bring people together to share a TED-like experience. At a TEDx event, TEDTalks video and live speakers combine to spark deep discussion and connection in a small group. These local, self-organized events are branded TEDx, where x = independently organized TED event. The TED Conference provides general guidance for the TEDx program, but individual TEDx events are self-organized (subject to certain rules and regulations).
Speakers
Speakers may not be confirmed. Check event website for more information.
Treena Arinzeh
Treena Livingston Arinzeh, PhD, professor of biomedical engineering at NJIT, has earned national recognition for her commitment to making adult stem cell therapy a future reality. Her research interests include applied biomaterials and tissue engineering; cell-biomaterial interaction; materials processing; surface characterization and modification of biomaterials; materials testing; in vivo models; tissue-engineering scaffolds for repair of bone and other related musculoskeletal tissues; and nerve tissue regeneration utilizing stem cells.
Chandri and Athena Barat
In May 2013 Chandri Barat with her daughter, Athena, was awarded the honor of "Woman of the Year" by the Women's Center for Entrepreneurship Corporation, acknowledging her as role a model, and charging her with the responsibility of continuing to set a high bar for the next generation of successful entrepreneurs. The mother and daughter Barat family team were honored with the distinction because of the Barat Foundation's extensive impact with Newark area youth using the arts as a means for empowerment and self-expression.
Margaret Christian
Margaret Christian is a Biomedical Engineering student at NJIT and will soon be heading to medical school. While at NJIT, she developed an idea (patent pending) for a new medical device and has been president of the Innovation Acceleration Club. She also won awards for the Newark Innovation Acceleration Challenge and the Capital One Cross Campus Challenge.

Adam Falkner is a writer, high school English teacher and the Founder and Executive Director of the Dialogue Arts Project, an organization dedicated to using the arts and the creative process as a means of generating and sustaining cross-cultural communication in educational settings. His work has appeared in Painted Bride Quarterly, The Literary Bohemian, decomP Magazine, and elsewhere, and has been incorporated into coursepacks for use in sociology and social work curricula in higher education. He has recently been featured on HBO, BET, Michigan and New York Public Radio, in Time Out New York and the New York Times. He is currently a doctoral student in English Education at Columbia University Teachers College and teaches 10th grade Creative Writing at the Academy for Young Writers in Brooklyn.
Reginald Farrow
Reginald C. Farrow, PhD, a research professor of physics at New Jersey Institute of Technology, is affiliated with the Biophysics and Materials Science Programs. Dr. Farrow's research explores the interface between nanotechnology and biophysics and biomedical engineering. His primary focus is to develop a method to investigate the fundamental properties of biological cells at the nanoscale using an array of carbon nanotube probes. Dr. Farrow's goal is to further our understanding of how cells communicate both internally and with other cells. This communication drives the individual and collective function of the cells at the most basic level. Dr. Farrow and his team have used the same carbon nanotube array platform to fabricate the world's smallest biofuel cell which may be used in the future to power in vivo versions of the nanoprobe array and other biomedical devices. Three patents have been awarded based on Dr. Farrow's research at NJIT and others are pending.
Michael Phillips
Michael Phillips is a graduate of the University of Western Australia and a fellowship at the University of California San Francisco, a physician, and a clinical professor of medicine. He spent nearly thirty years in academic internal medicine and clinical research (University of Connecticut, Georgetown University, Chicago Medical School, New York Medical College) until a great stroke of luck changed everything: his hospital went bankrupt and he was unemployed. That freed him up to spend all his time on his favorite hobby, which is developing breath tests for early detection of diseases such as lung cancer, breast cancer, and tuberculosis.
Nancy Thornberry
Nancy began her career with Merck Research Laboratories in 1979 as a biochemist and has served in many roles of increasing responsibility, culminating in her role as Franchise Head. In her tenure at Merck, she has achieved many notable scientific accomplishments, including the identification of the first caspase, interleukin-1βconverting enzyme (ICE/caspase 1) as the cysteine protease responsible for IL-1β processing in monocytes. She has also developed a novel approach involving positional scanning substrate combinatorial libraries for analysis of protease specificities.
Ann Weber
Dr. Ann E. Weber, Ph.D., is Vice President and Discovery Chemistry Site Head at the Kenilworth, NJ site of Merck Research Laboratories. In this role, she is responsible for the discovery of innovative therapeutic agents to treat patients with cardiovascular disease, diabetes, infectious diseases, and neurological disorders. Dr. Weber's research interests include the design and synthesis of ligands for G-protein coupled receptors, ion channels and enzymes. Her work has led to over 30 development candidates, including JANUVIA® (sitagliptin phosphate), a treatment for patients with Type 2 diabetes.