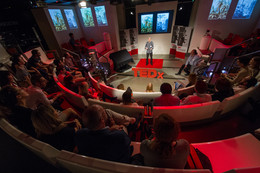 To the average passerby, Albertopolis seems little more than a relic of a bygone age. Beautiful buildings preserved in aspic in one of the most expensive display cases on the planet, obsessively cataloguing and documenting fragments of a faded past. But scratch the surface and you will find one of the most creative and forward-looking communities in the world, constantly using its unparalleled store of knowledge to fuel advances. Tonight we examine the importance of this act of curation, and look at how the preservation of the past affords us a better future.
Speakers
Speakers may not be confirmed. Check event website for more information.
Michelle Rogers
Michelle is a postdoctoral researcher, working under Prof Martyn Boutelle, in the department of Bioengineering at Imperial College London. Her current research area is to construct microfluidic biosensors for the clinical monitoring of brain injury patients in the intensive care ward.
Mira Calix
Mira is an award-winning composer, artist and performer. Her collaborators span a huge range of disclipines and include United Visual Artists, the Royal Shakespeare Company, the Royal Liverpool Philharmonic and the European Bioinformation Institute.
Fiona Gibbs
Fiona is a violinist and co-founder of Orchestra Vitae. A graduate of King's College London, she is currently writing her PhD at the Royal College of Music on the history of the Royal Albert Hall.
Russell Garwood
Russell is a palaeobiologist based at Manchester University. One focus of his work is using X-ray techniques to better understand early terrestrial animals and ecosystems. He currently holds an 1851 Research Fellowship investigating the origin and early evolution of insects.