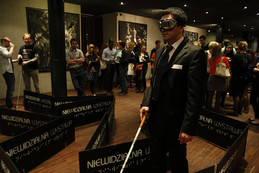 It is time for the TEDxWarsawSalon: Salon of Senses!
We prepared an excellent pack: amazing live speakers, legendary TED talks, smart interactive sessions and the already traditional CD/books exchange!
Book yourself a seat today!
TEDxWarsaw Salon is a set series of intimate and interactive events designed to bring together the local TED community and engage TEDx audience through the year until the main TEDxWarsaw event happening in March. TEDxWarsaw Salons are a gathering of curious minds, and place to explore encourages them to explore new ideas and ways of thinking. It is open for all who are ready to collaborate, connect and get energized!
Details:
TEDxWarsawSalon #3: Salon of Senses.
WHERE: Skwer, ul. Krakowskie Przedmieście 60a
WHEN: Wednesday, June, 26th 7pm till 10pm
REGISTRATION: http://tedxwarsaw.com/salon-reg/
WHAT YOU NEED TO BRING ALONG:
1. Personal / business card
2. A book / CD which you particularly like with your name on it. You will receive in exchange a book or CD from another TEDx'er
3. Good mood and open mind
To ensure your name is on the guest list, please register for TEDxWarsaw salon here: http://tedxwarsaw.com/salon-reg/
See you there!