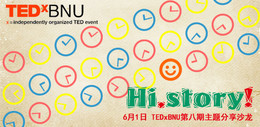 Everyday we are living an ordinary life, but creating an extraordinary history, if we look deeply into some details. Here is an opportunity for tracing the history of our daily life. Four interesting speakers will show different aspects of our daily life, and tell the history of vegetables, women's social roles, reconstructions in Beijing and a popular BBS respectively.
Speakers
Speakers may not be confirmed. Check event website for more information.
Huilan Luo
a professor of femaleology from China Women's University
Jun Shi
a botanist interested in how plants become eatable vegetables
Feng Tian
the chief manager of the hottest online BBS of Beijing Normal University
Feng Yan
an artist of digital media, a designer of Apple's applications, a founder of Lemonista Workshop.
Manhua Li
a director, scriptwriter and producer have great accomplishment and awards.