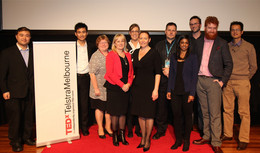 Speakers
Speakers may not be confirmed. Check event website for more information.
Dr Jason Fox is a motivation design expert on a quest to liberate the world from poorly designed processes and work. By the age of 25, he had completed a PhD, written two books and lectured at three universities. Now, he shows forward-thinking leaders how to use motivation science and game design to boost productivity, influence behaviour, and make clever happen. When not liberating the world from poorly designed projects and work, Jason enjoys partaking in extreme sports like coffee snobbery and fruit ninja.
Chris Varney is an advocate for children's rights. His advocacy began as a 16-year-old Youth Ambassador for World Vision during which he became active in anti-poverty campaigning. He went onto become National Co-Director of World Vision's youth movement and later, the 2009 Australian Youth Representative to the United Nations. As Youth Representative he put together a book Dear Kevin which helped catalyse many practical outcomes for vulnerable children and youth. For his efforts he has received the 2011 Monash University Student Alumni Award, the 2012 National Award for Youth in Advancing the Legal Rights and Interests of Children and Young People and the 2012 Future Justice Medal.
Ramali is a Melbourne poet and spoken word performer. She has been writing for 20 years and has recently performed across venues in Melbourne. She is an advocate of using words to stimulate freedom of expression, question conventional thought and create varying blends of perception that inspire self-belief.