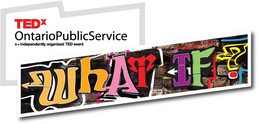 TEDxOPS was a Corporate event, open only to Ontario Public Servants. Please contact melissa.tullio at ontario.ca if you have any questions.
What/Who: TEDxOPS 2013 was led by Neill Kernohan and an enthusiastic team of organizers and volunteers, with support from the Provincial Interministerial Councils and Centre for Innovation + Workplace Culture. This year's theme was "What if?", a question that provoked a wide variety of talks, directly or indirectly related to OPS experiences and stories.
When: The confirmed date of the event was during Creativity and Innovation Week: Thursday, April 18, from 1-5pm - followed, as always, by an after party close to the event site.
Where: Alumni Hall 100, St. Michael's College, University of Toronto, Toronto
How: This year's event was webcast thanks to our talented sound/AV volunteers across more than 30 locations across Ontario.
Please contact Melissa Tullio if you'd like any other details.
Event Program
Act I
Welcome: Julie Florio
What if we never had another label?: Neill Kernohan
What if risk wasn't bad?: Helder Marcos
Musical Performance: Justin Tung
What if you shared your stories?: John Ritchie
What if we weren't so crazy after all?: Erin Sutherland
Act II
Running toward Incompetence: Muriel Deschênes
What if Government was designed just for you?: Simon Trevarthen
If and Now: Dorianne Emmerton
What I Learned in a Mexican Sweat Lodge: Lynn Zeelenberg
What if?: Binh Lu
The TEDxOntarioPublicService Challenge: Karen Prokopec
TED videos screened during TEDxOPS
TED Ad: Find your understanding.
TED Video: Sweat the Small Stuff, Rory Sutherland
TED Ad: Follow the frog.
TED Video: How the Internet will (one day) transform government, Clay Shirky
Satellite locations
Aylmer
Chapleau
Cornwall
Guelph
Hamilton
Kingston
Kitchener
London
Midhurst
Mississauga
Newmarket
North Bay
Oshawa
Ottawa
Peterborough
Pickering
Sault Ste. Marie
St. Catharines
Sudbury
Timmins (South Porcupine)
Thunder Bay
Toronto (several locations)
Wawa
After party
After party was at the Bedford Academy.