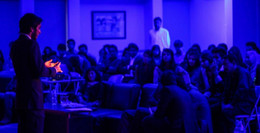 The idea is to introduce TED like experiences at school level in Pakistan so that it can be used to motivate and inspire the young minds.
Speakers
Speakers may not be confirmed. Check event website for more information.
Mohammad Qasim Mehdi
Mohammed Qasim Mehdi is an undergraduate student with major in History at Lahore University of Management and Science. In June of 2013, through Ferozsons he published Pakistan's first Science Fiction novel 'Broken Triad; Storm of Assassins ...
Yasir Ilyas
Yasir Ilyas a successful businessman and also the youngest CEO of Pakistan will tell the importance of education for a successful life by sharing his own story.
Samina Baig
Samina Baig the youngest Pakistani women to climb MT.EVEREST will tell her story of how she got motivated to climb Mt.EVEREST.
Mirza Ali
Mirza Ali a tour operator and a motivational speaker will share how mountains changed his life
Ali Gul Pir
Ali a masked comedian and a singer rose from nothing to a well known celebrity.He will share his success story