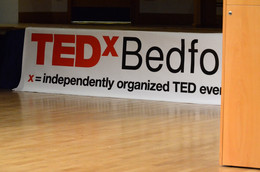 TEDxBedfordSchool is an event which will have talks about a somewhat ideal situations from a variety of different subjects and disciplines. These talks range from topics like politics and education to climate change and Stem cells. It promises to be an event that engages and intellectually stimulates the audience and acknowledges issues of global importance.
Speakers
Speakers may not be confirmed. Check event website for more information.
Simon Schillebeeckx
Simon Schillebeeckx is a Belgian national who's currently pursuing his PhD at Imperial College London. After a variety of degrees in commercial engineering, corporate social responsibility and international trade and a year-long journey through South America, Simon started working as a sustainable innovation consultant in Belgium. For two years he collaborated with governments, small, and large firms to help innovate business models, policy, and products inspired by cradle to cradle and sustainability thinking more generally. In 2011, he moved to London to start his PhD under the supervision of Professor Gerry George, arguably the most influential management scholar in the world now. His research focuses on strategy and innovation under resource constraints, both in the context of natural resources and in the context of digital entrepreneurs. He is also in the process of starting a digital network company.
Iain Staffell
Iain Staffell is a multi-disciplinary scientist forever kept busy by the many problems with meeting society's growing demand for energy. His work has seen him study technologies ranging from hydrogen and electric vehicles to nuclear reactors, wind turbines and renewable heating systems. Iain holds degrees in Physics (BSc), the Physics and Technology of Nuclear Reactors (MSc), and Chemical Engineering (PhD). He started his career at the University of Birmingham studying the first fuel cell home heating system installed in the UK, and then overseeing the first field trial of fuel cell passenger vehicles in the UK. He now works at the Imperial College Business School studying the many economic aspects of low carbon electricity. His current research investigates the potential benefits of an interconnected electrical supergrid across Europe, the role of smart energy storage systems in reducing our nation's carbon footprint and cost of electricity, and the barriers that are holding back hydrogen fuel cell systems from the mass market.
John Ashton
One of the world's top climate diplomats, John Ashton is now an independent commentator and adviser on the politics of climate change. From 2006-12 he served as Special Representative for Climate Change to three successive UK Foreign Secretaries, spanning the current Coalition and the previous Labour Government. He was a cofounder and, from 2004-6, the first Chief Executive of the think tank E3G. From 1978-2002, after a brief period as a research astronomer, he was a career diplomat, with a particular focus on China. He is a visiting professor at the London University School of Oriental and African Studies, and a Distinguished Policy Fellow at the Grantham Institute for Climate Change at Imperial College.