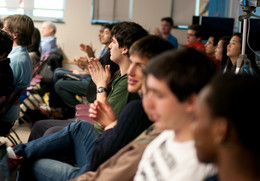 We will watch the livestream of TEDxChange from Seattle. In addition we will hear two live speakers and do a positive disruption activity
In-person talks:
Salvatore Sclafani, MD
Dr. Sclafani, an interventional radiologist, is Professor of Radiology and Professor of Surgery and Emergency Medicine at NYS Downstate Medical Center. He is recognized for developing many treatments including that for a ruptured spleen without the use of open surgery. Dr. Sclafani was made an honorary police surgeon by the NYPD after saving the life of a critically wounded patrolman and has taught interventional radiology to countless physicians during his ten visits to the People's Republic of China. He has been honored by the New York Academy of Medicine for his contributions to urban health.
Desiree Akhavan ('03)
Iranian-American filmmaker Desiree Akhavan is the co-creator of the award-winning web series The Slope, which was featured in The Guardian, Indiewire, Filmmaker Magazine, and The Huffington Post.  Her short film, Nose Job, played at festivals around the country and the Rotterdam International Film Festival. She was recently featured as one of Filmmaker Magazine's 25 New Faces of Film as well as Out Magazine's 100 most Compelling People of the Year.  Desiree's first feature film, Disposable Lovers, was selected for IFP's Emerging Narrative Lab and is being filmed summer 2013.