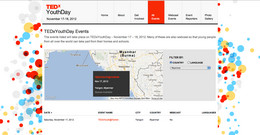 This will be one of upcoming series of efforts to create space for Myanmar Youth to learn and get inspired from Youth around the world about Technology, Education and Design.
We will be hosting a LIVE webcast of the TEDxYouthDay happening at xxx on 17 and 18 Nov 2012.
Anyone from Yangon and Yankin, young and old are welcome to join the event!
See you all soon.