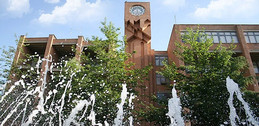 Based on its mission toward knowledge sharing, innovation and intellectual capitals on a national scale and establishing and maintaining a spirit of creativity and self-esteemed throughout the country, Sharif University of Technology considers TEDX as a standard event in order to share eminent experiences in Iran.
The unique status of Sharif University of technology, its potential capacity in science and technology, and presence of college graduates among the highest levels of national and international experts has turned the university into a place to collect and consolidate the country's top talents in various fields of science and culture.
All the above-mentioned features introduce tedxsharifuniversity as a reference to the presence of the country's experts, standing out and synergy of experiences, innovation and intellectual capital on the national and international scale.
Tel: +98-21-66009075
+98-21-66165185
Fax:+98-21-66012462
Organizing team
Nafiseh Payani

International Coordinator

Afshin Bozorgnia

Event Planning Advisors

Ashkan Karbalaeefar

Event Planning Advisors

Naghme Eijhaki

Graphic Designer

Meghdad Shakiba

Website Support & designer

Fereshte Chenarli

Program Coordinators

Parisa Fallah

Program Coordinators

Abolfazl Ferasati

Program Coordinators

Hosein Hojatii

Sponsor Adviser

Mona Payani

Advertisement and Promotion Advisor

Yokabed Beik

Coordinators