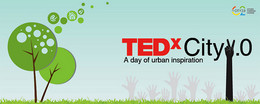 On Oct 13, 2012, the TEDx community around the world is celebrating a day of urban inspiration, a day when TEDx communities around the world will host an event to share the powerful narratives of urban innovators and organizers, stewards and artists, builders and taste makers.
Our team is in process of putting together a TEDx event in Islamabad on the same day with theme "City 2.0" and we are looking for speakers that address the most important elements of our local community: play, safety, food, consumption, sharing, culture, transportation, education, water, sanitation and recreation.
Speakers
Speakers may not be confirmed. Check event website for more information.
Kamran Lashari
Kamran Lashari is a distinguished personality, an outstanding civil servant, architect of modern Islamabad, a hardworking professional and a very balanced decision maker. He was the ex-chairman of CDA where he carried out a detailed assessment of the future needs of a modern capital and not only planned it but executed it with a resolute spirit, dedication and sustainable hardwork. Currently he is the secretary of Ministry of Housing and Works and doing a great job in planning accommodation / housing schemes for Pakistan's most modern urban city that we know as Islamabad.
Umair Jaffar
Umair Jaffar is the founder Institute for Preservation of Art and Culture (also known as IPAC). IPAC works for the preservation and promotion of traditional art forms of Pakistan. IPAC is working on programs to reintroduce the various art traditions of Pakistan to a newer and wider assortment of audiences, particularly cultivating a younger generation of followers who will ensure the survival of the dying arts. IPAC's Schools of Harmony is one such program which aims to bring traditional performing arts to schools and aims to incorporate various aspects of these arts in the school curriculum.
Hassan Sultan
Mohammad Hasan Sultan is VP Business Development at Thali - An effort, a Trust established in 2009 to prevent the wastage of food. Although he feels he started late in life, he knows that the best time to try to make a difference is right now. Believes we have the power to make our own reality, and that to change the world we have to start in our own community first. An avid star gazer and amateur guitarist, with an assorted collection of tin foil hats. He works at MDi Communications as a marketing consultant and uses his skills to promote the message of Thali - An effort, designing and implementing various social welfare projects.
Mudassir Zia
Muhammad Mudassir Zia is a young graduate of UET and spreads his knowledge to the youth as a teacher by profession. He is the founder and president of Message Welfare Trust and strives to work for the benefit of the society and its people. His main projects include educating the under-privileged children, giving a new dimension to the walls around the streets and utilizing solid waste in different productive ideas. With the ambition to make Pakistan stand above all, he provides a huge platform to the youth of Pakistan whose contributions in his patriotic deeds can make a big difference nation-wide and can be the solutions to many problems. He strongly believes that the only helping hand is present at the end of your arm.

A trio of impassioned mapmakers and technologists-- Fayaz, Omer Sheikh, and Khurram Siddiqi--are going to use the $10,000 from their City 2.0 Award to become the superheroes for those desperate and lost in the latter scenario. They are taking Allama Iqbal Town, one of the most densely populated localities in Lahore, and using it as a demonstration, of sorts. Asim Fayaz is a consultant with the World Bank, Khurram Siddiqi is an electrical engineer and Omer Sheikh is a Google Map Maker Advocate for Pakistan.
Syed Muzammil Hasan Zaidi
Syed Muzamil Hasan Zaidi is the soul behind 'Lolz Studios', a non-profit initiative that aims at providing a positive image of all the mundane routinely moments one witnesses in his/her life. The Studio which was started by him right after the completion of A levels has grown over time to delve into videography ventures which aim to group creativity with freshness and optimism regarding Pakistan. He has managed to keep the fans addicted to the positive energy that his ventures thrive on through projects such as 'A Day in Islamabad', a time lapse project which showed a glimmering picture of Islamabad in contrast to the political one that is usually seen on televisions today. He believes in changing stereotypes about Pakistan and its people.
Rameez Mumtaz
Rameez Mumtaz is a Chartered Accountant by profession and the Co-Founder of a youth based organization by the name of Green Volunteers Pakistan. Growing up in Islamabad, he always wanted to contribute towards the community and play a role in society. Learning from personnel experiences and realizing that there were not enough opportunities for the youth to encourage their participation in social work, he decided to form a volunteer based organization. Their main aim is provide a platform for the youth to be actively involved in volunteer work and promote a culture of volunteerism. Their Moto "We left talking a while back, now we just do".