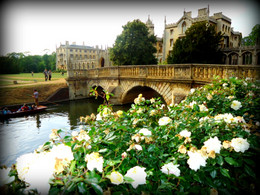 Dear All!
Cambridge University's maiden TEDx event will take place this August 15, 5:30pm (reception) for 6pm, at Bateman Auditorium, Gonville and Caius College, Cambridge! The impetus for this TEDx event came from a University-related organization, The Wilberforce Society's delivering of a proposed, innovative Tunisian Constitution to the General Rapporteur's office and its positive coverage from global media and think-tank accolades. Innovations come from courage and resilience which are often an uplifting reaction to devastating adversity.
Theme of this TEDx is "The Power of Resilience." Even folks in an environment as suffused with success as Cambridge sometimes face crushing disappointments. That's when resilience has to kick in and raise the level of performance. Managed constructively, disappointments can be the best teachers that help us think on a different and higher plane.
With resilience as our theme, here are some stimulating innovators from many walks of life. They will share their stories and their big TED idea(s) worth pursuing:
*Alexander McLean*: TED fellow and founder of the African Prison Project who has done an enormous amount for prisoner assistance and the overturning of dubiously imposed death sentences in Uganda (www.telegraph.co.uk/news/worldnews/8432006/An-English-prison-reformer-in-Kampala.html)
*Simon Bransfield-Garth*: Tech Innovator and CEO of Azuri, which is a leading British company in the innovation space. Simon and Azuri have been selected as a Technology Pioneer by the World Economic Forum and recent Winner of the coveted Ashden Award.
*Karen Countryman-Roswurm*: Karen has been a true pioneer in the anti-trafficking movement over the last two decades. Connecting the ideas with the personal dimension, Karen will discuss the resilience of own experiences of life on the streets, from which she was emancipated and began her career at the Wichita Children's Home as a Street Outreach Worker. Karen founded the Anti-Sexual Exploitation Roundtable for Community Action (ASERCA) and serves as a professor at the Wichita State University's School of Social Work. Karen is also the Founding Director for the Wichita State University Center for Combating Human Trafficking.
*Sharath Srinivasan*: David and Elaine Potter Lecturer in Governance and Human Rights in the department of Politics and International Studies, and a Fellow of King's College, Cambridge. At CGHR, he leads Africa-focused research projects on new communication technologies, voice and citizen-led governance, collaborating with leading thinkers and practitioners on the continent. Sharath's "big TED idea" concerns "voice as resilience through digitally networked African publics."
*Riddhi Sohan Dasgupta*: Author of proposed Tunisian Constitution (http://www.theworld.org/2013/07/tunisia-constitution/), international law expert, and humanitarian in the United States.
We hope you will enjoy the event (to occur on August 15 in Cambridge and to be uploaded on to TED.com and Youtube soon thereafter)! Your gracious attention is appreciated.
Sincerely yours,
TEDxCambridgeUniversity Organizing Committee
About TEDx, x = independently organized event
In the spirit of ideas worth spreading, TEDx is a program of local, self-organized events that bring people together to share a TED-like experience. At a TEDx event, TEDTalks video and live speakers combine to spark deep discussion and connection in a small group. These local, self-organized events are branded TEDx, where x = independently organized TED event. The TED Conference provides general guidance for the TEDx program, but individual TEDx events are self-organized. (Subject to certain rules and regulations.)
This independent TEDx event is operated under license from TED.
About TED
TED is a nonprofit organization devoted to Ideas Worth Spreading. Started as a conference in California 26 years ago, TED has grown to support those world-changing ideas with many initiatives.
At a TED conference, the world's leading thinkers and doers are asked to give the talk of their lives in 18 minutes or less. TED speakers have included Roger Ebert, Sheryl Sandberg, Bill Gates, Elizabeth Gilbert, Benoit Mandelbrot, Philippe Starck, Ngozi Okonjo-Iweala, Brian Greene, Isabel Allende and former UK Prime Minister Gordon Brown. Three major TED events are held each year: The TED Conference takes place every spring in Vancouver, Canada, simultaneous with TEDActive, in Whistler, BC; and the TEDGlobal Conference takes place each summer in Edinburgh, Scotland.
On TED.com, talks from TED conferences are shared with the world for free as TED Talks videos. A new TED Talk is posted every weekday. Through the Open Translation Project, TED Talks are subtitled by volunteers worldwide into more than 90 languages. Through our distribution networks, TED Talks are shared on TV, radio, Netflix and many websites.
The TEDx initiative grants free licenses to people around the world to organize TED-style events in their communities with TED Talks and live speakers. More than 5,000 TEDx events have been held, and selected talks from these events are also turned into TED Talks videos.
The annual TED Prize grants $1 million to an exceptional individual with a wish to change the world. The TED Fellows program helps world-changing innovators from around the globe to become part of the TED community and, with its help, amplify the impact of their remarkable projects and activities. TED-Ed creates short video lessons by pairing master teachers with animators, for use in classroom instruction or independent learning.
For information about TED's upcoming conferences, visit http://www.ted.com/registration
Follow TED on Twitter at http://twitter.com/TEDTalks, or on Facebook at http://www.facebook.com/TED