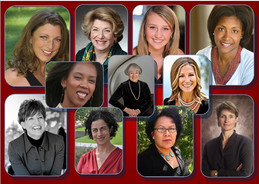 In the spirit of ideas worth spreading, TEDx is a program of local, self-organized events that bring people together to share a TED-like experience. At a TEDx event, TEDTalks video and live speakers combine to spark deep discussion and connection in a small group. These local, self-organized events are branded TEDx, where x = independently organized TED event. The TED Conference provides general guidance for the TEDx program, but individual TEDx events are self-organized (subject to certain rules and regulations).
Speakers
Speakers may not be confirmed. Check event website for more information.
Kelly J. Brough is the President and CEO of the Denver Metro Chamber of Commerce. The Chamber represents over 3,500 businesses with 300,000 employees working for those businesses in Colorado. Prior to joining the Chamber, Kelly served as Chief of Staff for the City and County of Denver and Mayor John Hickenlooper overseeing a general fund of $857 million. Kelly also served as Deputy Chief of Staff and Director of the Denver Office of Accountability and Reform, and was the first female director of human resources for the City of Denver. Kelly earned a master's of business administration degree from the University of Colorado at Denver in 1989 and a bachelor's degree in sociology, criminal justice from Montana State University in 1986. She currently serves on the boards of the Denver Metro Chamber Leadership Foundation, VISIT DENVER, Goodwill Industries, the Denver Public Schools Foundation, and as a member of the Women's Forum and The Chamber 100 with the U.S. Chamber of Commerce. Brough was recently named as one of Colorado's 10 most influential women by The Denver Post, and one of Denver's most influential people by 5280 Magazine. In 2012, Brough received the University of Colorado Denver Campus Alumni Recognition Award. She has attended a number of leadership programs including the JFK School of Government's program at Harvard for state and local public officials. She was also named an American Marshall Memorial Fellow in 2001.
As the daughter of a Foreign Service Officer, Susan's childhood took her many places both overseas and around the US. She graduated magna cum laude from Princeton University with a degree in Economics, accepted appointment at the U.S. Senate as a Congressional Fellow, and later studied economics at Oxford University. Sue worked as an Intelligence Officer for the Central Intelligence Agency before joining the private sector with the international management consulting firm of Booz, Allen & Hamilton. Currently Sue is Vice–Chair and Chief Financial Officer of the Sturm Financial Group, one of the largest independent banking groups in the Rocky Mountains, with 35 locations and $2 billion in assets. Sue and her husband Donald direct the philanthropy of the Sturm Family Foundation. Don and Sue share a belief in the importance of giving back to the community, and are each involved in several volunteer organizations. They have invested approximately $30 million in University of Denver's Sturm Hall, the Sturm College of Law, and numerous other endeavors to enhance the quality of teaching and learning at the University. They have funded efforts to expand educational opportunities for low- income children including the start-up of approximately a dozen charter schools across Colorado and Wyoming. In the area of affordable housing they have provided capital for the development of revolving loan funds to assist low-income households with children to achieve the American dream of homeownership. In addition, they have funded a wide range of civic and cultural activities including public radio and television, the Denver Art Museum, Bravo! Vail Valley, and many others.
Sabrina Risley is the Founder and CEO of CERTUS Professional Network™, Denver's largest and longest standing networking organization and professional community, in operation since 2003.  Ms. Risley has literally redefined how professionals promote and grow their business by encouraging them to seek first to build relationships and add value to the lives of others, realizing the rewards in doing so are far greater than the simple result of business growth and expansion. Ms. Risley has come to be known as a subject matter expert and can be found speaking on topics such as effective networking, the power of partnerships and collaboration vs. competition, and the principles of service and giving as a means to grow and flourish in business. Ms. Risley is a contributing author to two books, the recipient of the Go-Giver Award® and Sales Professionals International's 2012 Champion of Free Enterprise Award, has been recognized as Denver's 2012 Connection Maker of the Year, sits on the Board of Directors for Dolls For Daughters®, and volunteers her time connecting Colorado non-profits and charities with gratis promotional opportunities.
Shawna Coronado is an author who campaigns for green lifestyle advocacy and social good. She is an on-camera spokesperson, blogger, columnist, keynote speaker, and environmental correspondent with over eighteen years of experience with sales, marketing, and public relations. Educating community that one person can make a difference to build social good has become her passion. This can be seen in her personal efforts to grow community: she has a front lawn vegetable garden which has been featured on PBS TV, fed hundreds of people, and has garnered international attention. Shawna's efforts to help her community by maintaining a behind-the-fence drought tolerant garden after the city she lives in fined her for that garden was featured on WGN TV News and nominated for an Emmy award. Utilizing social media, Shawna spreads her powerful message by educating the online community on eco-travel, green-living tips, sustainable gardening, inexpensive cooking, home vegetable production, and techniques for every day homeowners to make a difference for their neighborhoods and cities. Her goal with the blogs and online presence is to better the world through community involvement and simple green living.
Ronalda Tome
Benilda Samuels
Benilda (Benny) Samuels is vice president of marketing and communications at Mile High United Way. Previously she was administrator for the Denver Health Family Plan Project at Denver Health & Hospitals, and communications director for the Denver Department of Human Services. She also was communications manager for Community Voices, a special project at Denver Health & Hospitals. She has worked at Karsh & Hagan Advertising and at Solis Advertising. Benny has an undergraduate degree in art from the University of Denver, and a master's degree in journalism from the University of Colorado Boulder. She is a native of Panama, is fluent in Spanish and has worked to improve the way we communicate with underserved populations and non-English speaking audiences. Benny is married to John F. Watson a retired firefighter/paramedic and an avid cyclist. They have one son, Sergio, an 8th grader at Denver Christian School's Van Dellen campus.

Sheila Bugdanowitz is president and chief executive officer of Rose Community Foundation, a charitable foundation which has granted more than $187 million to nonprofit organizations and initiatives in the Greater Denver region since its inception in 1995. Working with the Foundation's board of trustees, she directs Rose Community Foundation's grantmaking, philanthropic services, financial management and marketing functions. A Denver native, Bugdanowitz was vice president of Colorado Carphone prior to joining the Foundation. She directed all operations for wireless communications and managed strategic relationships with US West, major accounts and 20 fulltime employees. Bugdanowitz earned her Bachelor of Arts in Education from the University of Denver. She serves on the board of the Mountain States Employers Council and is a member of the Women's Forum of Colorado. Bugdanowitz previously chaired the Colorado Association of Funders and has also served on the boards of the National Association of Children's Hospitals and Related Institutions, the Colorado Health Institute, the Denver Metro Chamber of Commerce and The Children's Hospital, where she was also board chair. In 1998, Bugdanowitz received the Woman of Distinction award from Girl Scouts – Mile High Council. In 2005, she received the "Shrine of the Sun" Award from El Pomar Foundation for her "profound and lasting impact on the nonprofit community."

Francoise Mbabazi has been the Outreach Director for several state wide, multi-issue, multi-racial and advocacy organizations since 2004. Currently Francoise oversees CADP's organizing projects, engages in coalition building work with national, regional, state and local. She holds a Masters degree in Interdisciplinary Studies and a Bachelors degree in International Business Administration. She is originally from Rwanda.
Dr. Caryn Aviv
Over the past 15 years, Dr. Caryn Aviv has worked as a professor of Jewish Studies and sociology, and as a Jewish non-profit entrepreneur. She currently teaches at University of Colorado at Boulder and works as Associate Director of Judaism Your Way. Caryn co-founded and was director of research with Jewish Mosaic from 2003-2008, and she co-founded and directed of Storahtelling Colorado from 2008-2011. She earned a PhD in sociology from Loyola University Chicago, and has published widely for academic and popular audiences. What nourishes her most is learning, teaching, and sharing her love of a multivocal, resilient, and vibrant Judaism.
Alexa Downing - Co-Host
I am an 11 year old 6th grader in Denver. My interests are very broad, I am a big fan of the performing arts as well as the visual arts and literature. I also enjoy debate and mostly, hanging out with my friends. When I grow up, I would like to be an actress, a writer an ancient Egyptian paleosculpturist (someone who re-creates the faces of mummies) a graphic designer, a lawyer a supreme court justice or the president. I believe education is important because when one is not educated one cannot succeed in this world. You need to be able to understand basic concepts of math, writing and grammar to be able to secure a good job. Also if you have no education, you will not be able to succeed in the field of your interest. For example, if I wanted to be a math teacher, I would need to know math, have an understanding in the minds of children and know CPR. None of this could be accomplished without education. When more people are happy with their jobs, the more people have jobs therefore bolstering the economy. "Over the last 100 years, everyone in the developing world has been gaining about three IQ points, but women have been gaining faster,"-James Flynn. New studies have shown that woman are beginning to pull ahead in IQ tests. However, IQ's don't come without hard work. If we (women) are going to succeed in this world, we need to be well educated. Women especially because even though we have more rights than we did one-hundred years ago, we are still viewed as weak. When someone has a good education, it improves their status in the eyes of others. When once viewed as weak, with a good education people see you as more respectable. I believe that woman can become powerful and successful if just educated right. Everyone all over the world deserves a good education and who knows? Maybe If we make better elementary and high schools we can cure cancer and make other world changing discoveries. Some strange things about me, hmm where to begin. Well for starters I am attempting to read War and Peace, I love Tim Burton and Le Misrables. My favorite color is orange I love cats but am allergic to them.

Cassandra Perkins born and raised in Denver Colorado is no stranger to show biz. She hit the theatrical stage 10 years ago, at the young age of 5 where she has preformed in at least 8 productions. By the age of 10, she had blossomed into a fine young actor with several Internet Movie Database film credits to her name, as well as a Heartland Regional Emmy nomination. She is an active member of the "Youth 4 Parker" a young city council committee that coordinates community outreach. Cassandra has furthered her career as a public speaker, co-author, stunt girl, hosts her own internet talk show called "Global Voices Reaching Out", and is a spokes model for "BE Your Own You" Magazine empowering and educating girls on the importance of positive self-esteem for a better quality of life. Cassandra's ultimate goal is to do all that she can to positively improve and impact the lives of the people around her. Cassandra at a very young age had to overcome many barriers; blindness in her left eye, bullying, ridiculed for learning difficulties, which all contributed to a very low self-esteem. It was these barriers that have given Cassandra the strength and direction to change her vision of herself, as well as encourage others to positively view themselves. Cassandra's mission is to let everyone know that they have a voice and to use it.
Elinor Greenberg
Ellie Miller Greenberg describes her work as "creating access to opportunity", especially for women and minorities. Over the past 58 years in Colorado, Ellie has developed innovative programs in speech pathology, higher education, and her community. As a speech pathologist, she focused on severely brain –injured children and adults in schools and clinics in Denver, Colorado. As the Colorado founding director and national coordinator of the University Without Walls, she developed individualized baccalaureate programs for adults. As the founding director of Pathways to the Future, she assisted the US WEST 14-state workforce of 40,000 non-management employees return to college and initiate new careers. As the regional coordinator of the 16-partner Mountain and Plains Partnership in Colorado and Wyoming, she led the development of the first online Masters program for rural nurse practitioners, certified nurse midwives and physician assistants. She has raised more than $20 million to support these programs. In the community, she co-founded the Littleton Council for Human Relations, which brought Dr. Martin Luther King, Jr. to Littleton, Colorado, in 1964, and worked on fair housing legislation. She co-led the development of the Colorado Women's Leadership Coalition, the Colorado Women's Economic Development Council, and the Colorado Feminist Luncheon; and has served as President of the Women's Forum of Colorado and a board member of the International Women's Forum. Greenberg has been inducted into the Colorado Women's Hall of Fame, received Regis University's Civis Princeps (First Citizen) Award, been awarded two honorary doctorates, and received many other awards and honors. She holds a BA from Mount Holyoke College, an MA from the University of Wisconsin, and an Ed.D from the University of Northern Colorado. Ellie and her late husband have three adult children and four grandchildren.