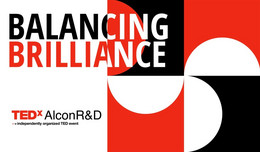 This year, we want to highlight our Brilliant Impact with talks that support the theme of Balancing Brilliance from 10 outstanding speakers. These amazing talks will encourage and inspire our associates and highlight the impact we can have on our teams and community. We will share unique ideas to help spark new, innovative thoughts, conversations, and continue to think differently.
Speakers
Speakers may not be confirmed. Check event website for more information.
Adrian Sauceda
Associate Director, Global Regulatory Affairs
Adrian has been with Alcon for 22 years, starting as a Formulator in R&D, then moving to roles in QA for both Fort Worth North and Aspex manufacturing sites. Adrian's current role is within Regulatory Affairs. Adrian is no stranger to moving around as his childhood included many moves to many different neighborhoods. This allowed Adrian to develop the skill of adaption to the environment around him and starting new connections quickly. Adrian is the first in his family to attend college, and while yes, he did earn a degree, he also learned that the joys of life are choices. He is always seeking the metaphorical sunshine to brighten a day. Adrian is still actively trying to find the joy of being an avid Dallas Cowboy fan for the last 27 seasons.
Ben LeRoy
Design Engineer, Intraocular Devices
Ben started his career with Alcon as an R&D intern in the summer of 2020. After receiving both his Bachelor's and Master's in Biomechanical Engineering from Stanford University, he joined the Alcon Belmont site as a full-time associate in 2021. The best part of Ben's job is that he gets to work with such a diverse group of talented people on a daily basis. He's motivated by the exciting challenges that come with designing a novel medical device and the prospect of improving people's lives with his work. When he isn't making PowerPoint slides or analyzing data, Ben is probably either at Chipotle or trying to convince his coworkers to meet him at the mall.
Christopher Olson
Medical Science Liaison for Vision Care, Dry Eye and Ocular Health
Christopher Olson served as a community eye doctor for 33 years in rural Iowa prior to joining Alcon Medical Affairs in May 2021. He has served optometry as Chair of the Iowa State Board of Optometry and nationally on the Accreditation Council on Optometric Education. Christopher celebrated 40 years of marriage this past summer with his wife, two daughters, their husbands, and 7 grandchildren. While in private practice, he strived to provide the very best individualized care possible for his patients with innovative examination equipment and product offerings. He feels blessed to be involved with research activities that help ensure Alcon continues developing new and innovative products and maintain its leadership position in helping people See and Live Brilliantly throughout the world.
Guillaume Desmarais
Associate Director of commercial training – Canada Surgical
Gui joined the Canadian Surgical Sales team in December of 2020. It was the perfect next step in his 10+ year career in eye care. He manages training in Canada for the surgical business unit, and also helps support some of the ophthalmology resident's education activities. Gui is a proud father of 2 boys and a girl. He enjoys traveling with them and the opportunity to connect with them in a meaningful way. Gui likes practicing all kinds of sports such as kitesurfing, snowboarding, and skydiving. These sports are very intense and require a lot of focus. Recently Gui started wingsuit flying, where he learned a lot about himself and how to manage his fears. Gui will be sharing his own recipe to manage fears and face challenges like never before.
Himansu Pattanaik
Principal Optical Scientist
Himansu Pattanaik is a Principal Optical Scientist in the Advanced Optical technologies R & D group at Alcon. He earned a PhD degree in Optics and Photonics from CREOL, The College of Optics and Photonics, at the University of Central Florida in Orlando. He has been with Alcon for the past two and a half years, working on IOL design, test development, and measurement. He is the first in his family to earn a PhD degree and travel to the United Stated for higher study. Prior to Alcon, Himansu worked in various optics industries in sensors and optical metrology. He is very passionate about science, engineering research, and teaching. When time permits, Himansu enjoys Yoga and Meditation, and learning about maintaining good mental and physical health.
Igor Kazadojev
Operations Excellence Lead, MTO, Alcon Singapore Manufacturing
Igor is a loving husband, father, cat owner, and a pretty good pin development manager, holding a PhD in Materials Science. Igor is Russian – born in Lithuania; however, he spent half of his life in Ireland! Igor speaks with an Irish accent and measures liquids in pints. He has been with Alcon for over 4 years, during which he had the opportunity to contribute to such amazing projects as PanOptix, Vivity, Seurat and Paris. His current role is in operational excellence in Alcon Singapore Manufacturing. Igor is a disruptor, innovator, and blue-sky thinker – always looking to simplify and improve. When he is not working, he enjoys spending time with his family, working out in the gym, trying new food, and conquering the world.
Jessie Hull
Director of Clinical Projects, CRD Surgical IOD
Jessie has 18 years of clinical development and medical affairs experience at Alcon. She has supported contact lenses, lens care, dry eye products and IOLs. Jessie is currently responsible for clinical development, post-market medical evidence generation and life-cycle management activities, for Alcon's portfolio of presbyopia correcting IOLs including Vivity and PanOptix. She earned her doctorate in public health from the University of North Texas Health Science Center while employed at Alcon and is grateful for Alcon's support of her personal and career growth over the years. Although born and raised a Texan, Jessie attended undergrad as a student-athlete at the University of Kentucky. She admits having a competitive drive towards U.K. athletics and in seeing Alcon IOLs succeed.
Leianne Ebert
Global Head of Clinical Data Operations
Leianne embodies the spirit of artistic, athletic, and adventurous pursuits, all while cherishing her deep commitment to family and friends. Relationships, joy, and laughter are a cornerstone of her daily life. As a native Texan and Aggie, Leianne journeyed far from her roots by embarking on a transformative international assignment in India. This admittedly solidified many priorities in her life both personally and professionally. With a career steeped in building organizations, driving effective technology adoption, and championing operational excellence, Leianne has carved a unique leadership path and style. Her true passion lies in igniting the extraordinary and strengths of every individual. Believe it or not, she still doesn't know what she wants to be when she grows up.
Maddi McGough
R&D Product Design Manager, Intraocular Devices
Maddi joined the IOL Design Team at Alcon in 2018 after receiving her PhD in Biomedical Engineering from Vanderbilt University and her Bachelor's degree from Texas A&M. She saw Biomedical Engineering as an opportunity to develop translational technology that would directly impact the lives of family, friends, and beyond. She is excited about the potential cascade of these developments to spark the next ideas that will treat disease, injury, and push medical devices and biomaterials towards biomimetic. Maddi decided to go to graduate school because she was fueled by the excitement of working on something that no one else has done before. Now, as a Manager in the IOD Product Design Team in R&D at Alcon, she's introduced to new concepts and ideas to improve ocular health and vision every day. She is driven by these exciting opportunities and encourages her teammates to push the unknown to develop products that have yet to be imagined.
Vincent Menoret
International Training Director, Optometrist and Sustainability Advocate
With over 15 years of dedicated experience in the eyecare industry, Vincent is a seasoned optometrist and a driving force for positive change. His journey began in the world of optometry, where he honed his expertise in understanding and improving vision care. Vincent has demonstrated a remarkable ability to combine his clinical & commercial background with visionary leadership. Today, he proudly serves as the International Training Director for Vision Care at Alcon, guiding International teams towards excellence and growth. Holding an MBA in Sustainability Business, he is a passionate advocate for sustainability in business. As a 2023 Global HSE award winner, Vincent merges his eyecare proficiency with a fervent commitment to environmental responsibility, social progress, and ethical governance. His journey is driven by a genuine desire to create a brighter future, where eyecare, business, and the environment coexist harmoniously.