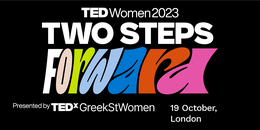 Join Sairah Ashman on 19th October for her annual TEDxGreekStWomen - as she explores, along with three guest speakers, how we can better pave a way for the next generation for a more equal and inclusive future.
Whether working on new models of equity and inclusion or blazing trails as pioneers, this year's speakers demonstrate luminous new thinking and ideas designed to enchant, uplift and inspire us all.
Speakers
Speakers may not be confirmed. Check event website for more information.
Founder, CEO
Alice Williams MBE is the founder and CEO of Luminary Bakery, a charity that uses baking to help socially and economically disadvantaged women, by using baking as a tool for employability and entrepreneurship. Luminary Bakery was founded by Williams in 2013 to aid women coming out of the care system, abusive situations and re-enter society and the workforce post-prison.
Actor
Jessie Mei Li is a mixed race and neurodiverse actress best known for her lead role portraying Alina Starkov in Netflix's fantasy television series 'Shadow and Bone'. Li made her stage debut in 2019 through 'All About Eve' and has continued to feature in works such as 'Last Night in Soho,' and her upcoming Netflix film, 'Havoc'. Li has spoken on growing up with a lack of positive East Asian and biracial representation onscreen and will talk on her experience of tokenism and neurodiversity in the film industry and how it has affected her approach to roles.
Co-CEO, Co-Founder
Natalie Campbell MBE is the Co-CEO of Belu Water and the Co-founder of A Very Good Company, a global consultancy agency that specialises in social innovation and design. Outside of this, Campbell is also the Founding Director of Sussex Royal and The Royal Foundation's first Director of Insight and Innovation.