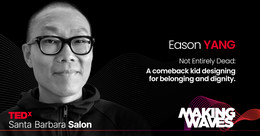 Most of us have faced a gap on our resumes, whether due to maternity or paternity leave, sabbatical, or any life transition. A resume gap caused by cancer isn't by choice. Rock star designer and creative director Eason Yang found himself embattled in a long fight against cancer, only to be told by prospective employers that his best years were behind him when he came out the other side victorious. That directly contradicted what he knew about himself and other survivors — their hard-won competitiveness, grit, and tenacity make them more valuable employees. Eason started the organization NED (Not Entirely Dead) to hack the inherently biased systems against cancer survivors. Now he's a badass design activist working towards narrative change.
Speakers
Speakers may not be confirmed. Check event website for more information.
Founder & Design Director
Eason is a designer, creative director, and educator. He founded Not Entirely Dead, a social enterprise championing cancer survivors, named 2022 Social Design of the Year by AIGA and 2023 World Changing Idea by Fast Company. With 15+ years of creative leadership for Uber, lululemon, Ogilvy, Saatchi & Saatchi, Eason's work has garnered global recognition, including the Cannes Young Lion Award. As a design activist, Eason lectures at universities and global companies, speaking on international platforms like NPR and Creative Mornings. Eason earned a Master of Design at the University of Washington, where he now teaches and mentors the next generation of creatives. Beyond design, Eason is a marathon runner who has conquered cancer, powered by classical music and 80s rock—6,000+ km and counting.