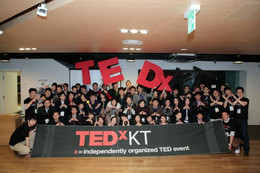 It was awesome. Especially, it was the first time to have over 100 attendees for our event.
The subject of the event was "Communication" in KT.
Each speaker gave very special stories and skills so that we can understand colleague who are working with. And every organizer tried to do their best to make "TED moment".
Through this wonderful event, many employee who got to know about TED in KT are willing to join TEDxKT community and use their talent. We want to inspire more people in our company by TED event so that we could change KT and change ourselves to bettter way.
Speakers
Speakers may not be confirmed. Check event website for more information.
Eun-Hye Kim
KT GMC전략실 실장 / 소통 리더십
Wooram Park
인천마케팅단 / Bottom's up - Communication!
Jongchul Oh
SBS개그맨 / 내 일과의 행복한 소통법, 리액션하라!
Soojung Choi
IT서포터즈센터 / 나눔과 소통
David Choo
TED한국대사 / TED 즐기기!