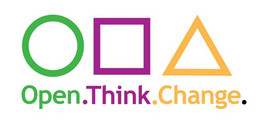 Note: All of the following information is available through OPSpedia as well. This website is being maintained for Ontario Public Service employees who do not have access to the intranet. Contact Melissa Tullio or DM her @CreativeGov if you have any questions about the event!
What: TEDxOPS 2012 brought together some of the most engaged and innovative Ontario Public Service employees to showcase our creativity, passion, and talent. This year's theme was Open. Think. Change. The event was open to OPS employees only.
When: Wednesday, June 6, 2012 from 1-5pm (with after-party at the Bedford Academy in Toronto).
Where: St. Mike's College, Sam Sobara Auditorium.
Who: TEDTalks were delivered by OPSers across the organization.
How: Our volunteer production team met periodicially to plan logistics for the event.
Webcast/Video: This year's event was webcast across Ontario regions, thanks to OMAFRA's Brad Mayes and Brad Stephenson, as well as MGS's Rob Irwin. There were limited spots for individuals to log-in; regions booked a boardroom and hosted their own satellite locations.
Videos of the TEDTalks will be uploaded to OPSpedia's Media Delivery Service after the event is over and linked through the Innovation Zone on MyOPS.
---
Program (TBC)
Act I
Welcome remarks by Neill Kernohan, Artistic Director, TEDxOPS
TEDxTalk by Shamira Madhany: Change starts with me
TEDxTalk by Enan Hoque (MCSCS): The Perfect Cocktail for the Human Brain
TEDxTalk by Ghada Hamouda (MTO): Yes, we can!
TEDxTalk by Rita Czarny (FSCO): To laugh or not to laugh?
Intermission
Act II
Musical act: Laura Spink (MOE) with The Young Novelists
TEDxTalk by Andrew Miller (FIN): Why I hate bucket lists
TEDxTalk by Corey Davidson (MGS): Stop! Think. Act. Embracing Change.
TEDxTalk by Bob Goulais (MTO): The Case for Change: Ontario's New Relationship with First Peoples in Ontario.
TEDxTalk by Neill Kernohan: The TEDxOPS Challenge
TED videos screened during TEDxOPS
TED videos shown during the event:
TED Ad: Day one: Linda
TED Video: Kiran Bedi: A police chief with a difference
TED Ad: Xylophone
TED Video: Drew Dudley: Everyday Leadership
TED Video: Shawn Achor: The happy secret to better work
---
Satellite locations
Guelph
Thunder Bay (MOE)
Sudbury (MOE)
Peterborough (MOE)
St. Catharines (Tomorrow's OPS)
Kingston
Sault Ste. Marie (MNR)
Timmins
North Bay
Orillia (Ontario Provincial Police)
London
Toronto (MGS)
Blind River (MNR)