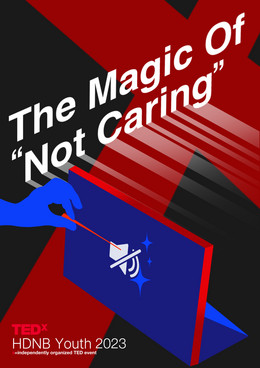 TEDxHDNB Youth is the first and only official TEDx event in Ningbo in 2023, and the theme of our talk is "The magic of not caring". This TEDx session will invite different speakers to share their difficulties, anxieties or doubts; how "the magic of not caring" has helped them focus on themselves and not be influenced by external factors.
The content includes but is not limited to:
-Similar experiences
-Thoughtful solutions to some of society's common anxieties;
-Inspiration about this sense of relief of "not caring" ......
About us:
TEDxHDNB Youth is officially licensed by TED in 2023 and is run independently by a team of on-campus students as a non-profit organisation. We are committed to bringing good ideas to HD and letting listeners leave with inspiration, self-reflection and strength. We hope to inspire thought and creativity through valuable sharing and meaningful dialogue.