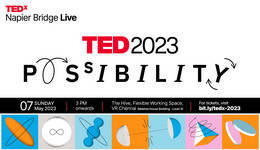 Through TEDxNapier Bridge Live, we are bringing TED 2023 to Chennai. Watch curated talks from the legendary conference themed 'Possibility' on May 07th.
About 'Possibility': Much of today's public conversation is eaten up by zero-sum battles between divided groups. But the world doesn't have to be zero-sum. At TEDxNapier Bridge Live 2023 we will explore together a strange and beautiful space called the adjacent possible. We'll be guided there by dreamers, inventors and creatives. Innovators, entrepreneurs and builders. Explorers and change-makers. Visionary thinkers and doers from every field of human endeavour. They use the power of imagination to make the world bigger, better, more thrilling, more hopeful. And the incredible thing is, their visions may inspire us to actually make that possible world real. At a time of great challenges, this is the antidote we need. Come dream with us!
Where: The Hive, VR Chennai (Level 3, near Kalki Theatre).
When: May 07, 2.45 PM
Directions: https://g.page/hiveVRchennai
About us: TEDxNapierBridge is a platform that hosts inclusive TEDx conferences inspired by TED's commitment to ideas worth spreading. It is a conference for all kinds of minds. Our goal is to create an extraordinary event of ideas, to foster game-changing dialogue, and to inspire action that implements real change in Namma Chennai.
Terms and Conditions:
1. Age limit: 12+
2. Parking charges apply as per VR Chennai's rates, and will not be free.
3. Please bring your own water bottles. They can be refilled at the venue.
4. The event does not feature any live speakers.
5. By purchasing the ticket, you are agreeing to our code of conduct (tedxnapierbridge.com/code).
6. Outside food is not allowed.
7. Registration desk opens at 2:00 PM. Doors close at 2:45 PM and latecomers will not be allowed to enter.
8. All rights reserved with TEDxNapierBridge, The Hive & VR Chennai.