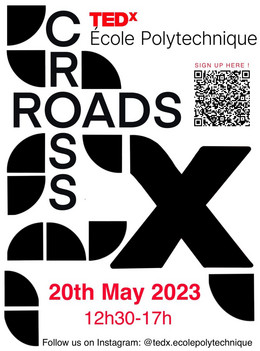 The TEDxÉcole Polytechnique team is proud to announce that their conference will take place on the 20th of May 2023, in the Gay-Lussac lecture hall of École Polytechnique.
For this event, we have chosen the theme "Crossroads"; we will examine the intersections of global trends and the critical decision points that shape our collective future.
From climate change and technological disruption to geopolitical shifts and social justice movements, our world is facing unprecedented challenges and opportunities. By exploring these macro-level crossroads, we aim to inspire you to think critically about the choices we make as a society and their impact on our shared future.
It will be followed by a cocktail during which you can meet our speakers.
Speakers
Speakers may not be confirmed. Check event website for more information.
Daphné Grem
Innovation engineer and co-founder of the upcycling brand RESAP Paris
Jay Swanson
Video creator and Writer
American writer and video producer based in Paris, France.
Joseph Bascou
Chef de centre
Works in the optimisation of wheelchairs in high level sports (tennis).
Kevin Ha
Engineer
Engineer who graduated from École Polytechnique, professional parkour athlete and finalist of the last season of Ninja Warrior France.
Pere Roca i Cabarrocas
Physicists
Researcher at the Physics of Interfaces and Thin Layers Laboratory (PICM) at École Polytechnique, scientific director of the Photovoltaic Institute of Île-de-France (IPVF).
Sridevi Raghavan
Senior Vice President of Education, Quality and Sustainability at Babilou Family
Graduated from Harvard Business School, founder of Amelio Early Education, the first network of nurseries in the state of Tamil Nadu in India, in order to help women find a better balance between professional and personal life.