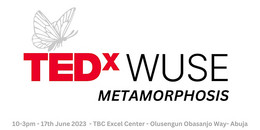 Metamorphosis is a timely subject and is a seed that can be planted in the minds of individuals that are willing to be the change that they seek. In the post pandemic world, new awakenings and ways of thinking have given rise to new ideas and resulted in a more conscious world. More awareness of our health, the ways we engage in business, sustainability of our environment and how we relate to one another, we believe the key to unlocking Africa's potential lies in our ability to elevate Africa's collective consciousness.
We invite you to join us for a day of reflection, stimulation and conversation around ground-breaking ideas which can inspire to take action to empower Africa and Africans.
TBC EXCEL CENTER
Plot 989 Olusegun Obasanjo Way (opposite NNPC Mega Station) Abuja, FCT 900103
Abuja, Abuja Federal Capital Territory, 900103
Nigeria
Event type:

Standard (What is this?)
See more ­T­E­Dx­Wuse events
Speakers
Speakers may not be confirmed. Check event website for more information.
Creative Technologist
Chidumaga Uzoma Orji is a visual and experiential artist and creative technologist. His work is concerned with unpacking post-colonial crises of identity, fuelling imagination in service of progressive African futures, and exploring ancestral technologies of being with respect to contemporary relevance, all with a view to contributing to a liberated, free and healed African psyche. He is the creative director of uzoma.studio, a digital design studio and dream lab for embodied technological futures.
DR. MARKIE IDOWU
Managing Director/CEO of Xpress Payment Solutions Limited
Dr. (Mrs) Markie Idowu is the Managing Director/CEO of Xpress Payment Solutions Limited, a leading financial technology (fintech) company in Nigeria, She was recently crowned Best Fintech Female CEO at the Nigerian Fintech Awards, and has over 33 years' experience in Banking and IT, 28 of which was spent in the banking industry working for banks such as GTBank, Fidelity and Polaris Bank where she left as Executive Director (ED), Retail and Lagos Commercial Banking. She has served on the board of several companies including Skye Bank (now Polaris Bank), MainOne Cable Company, Equity Assurance, IHS, NIBSS (representing Polaris Bank MD), Mainstreet Brokers Limited, Women in Technology in Nigeria (WITIN), etc.
ESTHER HADIZA IJEAKU
Project Manager
Esther is a certified Project Management Professional and team lead with over 20 years' experience working in Nigeria's development sector in different roles within local and international NGOs. She has experience in community outreach and mobilization, radio programme production, media development, business development, project management, training and leadership covering several thematic areas. These include gender, human rights, health (HIV, MNCH etc), safeguarding, peacebuilding, inclusion, democracy and good governance. She currently heads Skill Hub Consulting which she founded in 2021 to build the capacity and enhance the performance of NGOs to become sustainable whilst deepening impact in their communities.. She has spoken at local and international conferences and sits on the boards of several organizations.
Fashion & Beauty Entrepreneur
Kiki is an entrepreneur and philanthropist who has made significant contributions to the beauty industry and community empowerment in Nigeria. She is the founder of both Ciar, a fashion and lifestyle brand, While Konyin Skin is a 100% clinically and scientifically tested beauty skincare line that sources and manufactures all its products in Nigeria. As a philanthropist she is founder of the Fight for our Soldiers Foundation.
OBINNA OGADAH
Energy Attorney| Author | Speaker | Trainer | Coach
Obinna is a maverick Attorney, Author, Speaker, Trainer and Coach, whose life purpose is to leave an enduring legacy of openness, happiness and love. He advises at the intersection of Energy Legal Services, Government Business and Psychology. He obtained his MBA (BA) from the Esut Business School and is certified as a Speaker, Trainer, and Coach with the John Maxwell School of leadership. He is the author of Unlocking Your Potential Power: The Renaissance Gentleman's Guide to Success in His 20s and Beyond.
PAUL CAST
Filmmaker
Paul Cast is the creative director of Paul Cast Studios, a media production company with a focus on helping people live better lives, through excellently illustrated stories. He is the author of How To Be A Man In A Crazy World, a comprehensive material on men and masculinity. He is the founder of Heroes Network, an annual men's forum that started at Covenant University with a record of over 1000 young men who have been mentored to discover their purpose and live more meaningful lives. He is a movie director, screenwriter, and executive producer keen on telling relatable stories with a global appeal.