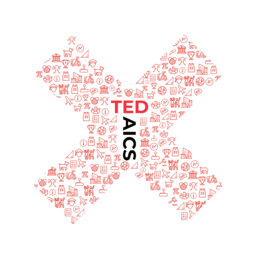 The annual student-organised AICS TEDx Youth Event is approaching. External speakers as well as performers linked to our community, specialising in a wide variety of fields, will be presenting compelling talks surrounding the theme "Ever-changing Understandings."
Join us for an exciting night on Thursday, the 30th of March. The event will take place at the CREA Music Hall, the address of which is Nieuwe Achtergracht 170, 1018 WV Amsterdam. The doors will open at 18:45 and the event will begin at 19:00, ending around 22:00 with a 30-minute intermission, during which included light snacks and drinks will be served. Attendance is free, however, the amount of spots available is limited, so reserve your ticket ASAP!
Speakers
Speakers may not be confirmed. Check event website for more information.
Danielle Slootjes
Chair of Ancient History at the University of Amsterdam
Originally trained in Classics at the University of Groningen, she moved to the United States where she obtained an MA and a PhD in Ancient History at the University of Chapel Hill in North Carolina (UNC). She has published extensively on late antique Roman administration (in particular on provinces and dioceses), ancient geography, the history of early Christianity and crowd behavior throughout antiquity (with a particular focus on Rome and Constantinople). Slootjes' research is characterised by a multidisciplinary vision that is consciously discarding traditional boundaries between disciplines.
Clinical Psychologist with a PhD in Applied Creativity
Gema FB Martín is a clinical psychologist, scientist, and artist. She has 3 lines of research: (1) Computational models of artificial emotions for social robots (2) Mental health and sublimation and (3) Immersive virtual environments for therapy. She is currently living and working in Utrecht (Nederlands) working as a lecturer as well as collaborating with 2 labs: (CAR)CSIC-UPM (Madrid) and Human Cognition and Brain Studies Laboratory (Monterrey). Currently, she is writing a fiction book, performing in an immersive environment with an orchestra, and developing her personal artistic projects.
Hannah Huber
Founder Amsterdam Academy Press
Hannah Huber is founder Amsterdam Academy Press, enabling authors and thought leaders to put their work and stories out into the world with as much agency as possible, producing excellent books. She first set foot on Dutch soil as a sixteen-year-old exchange student and has had a love for Dutch culture ever since. Before founding Amsterdam Academy, she spent the majority of her career in international higher education, as Director of the CIEE Amsterdam Study Center. Hannah most recently published her first novel Place. She lives just outside of Amsterdam, with her Dutch husband and three children.
John Veluchamy
Head of Cell Therapy Process Development, Glycostem Therapeutics
John is working in cellular immunotherapies for 13 years. John is determined to defeat cancer and believes that a universal cure is not far away. John uses this opportunity to encourage younger generations to get involved in cancer research, active fundraising, and contributing to unmet needs in end-of-life (palliative) cancer care.
Lael Blum
Operations at DPR Construction
Lael has spent her career championing the incredible people who build the buildings where great things can happen.
Prisha Kapoor
MYP 2 AICS Student
Prisha originates from India, however, she grew up in the Netherlands. She is very interested in the different cultures, communities and languages that surround her. She studies at the AICS school and has many hobbies which include: playing tennis, playing keyboard, singing, and watching Ted talks. She loves to play many different sports and likes to learn about new concepts and ideas, which is why she loves Ted talks, and is a visual learner for sure. As she grows up she hopes to continue spreading her knowledge for the benefit of others.
Rene Smits
Emeritus professor, Law of the Economic and Monetary Union, University of Amsterdam
Husband, father, grandfather, and friend. Emeritus professor, Law of the Economic and Monetary Union, University of Amsterdam. Member, Administrative Board of Review, European Central Bank Consultant, EMU law, banking regulation and sustainable finance
Ron Berlinski
Founder of Curiosity Learning
Ron Berlinski is a photographer, videographer, web designer, educator, and most importantly, a learner. He is passionate about bringing change to the education system to ensure everyone stays curious throughout their entire life. He is the founder of the non-profit Curiosity Learning, where he and his team support high-school students to bring actual change within their schools through the Curiosity Club. Stay curious.