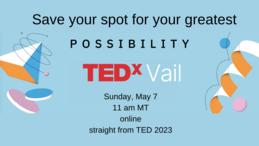 Tap into TED2023 with us @TEDxVailLive! We will explore together a strange and beautiful space called the adjacent possible.
And the incredible thing is … their visions may inspire us to actually make that possible world real.
At a time of great challenges, this is the antidote we need. Come dream with us!
TED 2023 Speakers TEDxVailLIVE: Straight from TED 2023!
TEDxVail hosts cool virtual Vail spaces, a dozen of the most creative climate solutions, singers, artists, beauty, entertaining ideas, and YOU! We designed this so that your thoughts and voice will be heard. If you are curious or an introvert or a bold activist or a careful analyzer, a natural-born leader, or have a family, TEDxVail reveals secrets and systems for our finer future.
TEDxVailLive Speakers include:
Nadya Tolokonnikova (Pussy Riot's powerful message to Vladimir Putin)
Doris Mitsch (digital photos beyond the human range of seeing)
Ersin Han Ersin (mixed reality artist, " We Live in an Ocean of Air")
Yara Shahidi (advocate for equity and education. Tinker Bell in Disney's live-action film Peter Pan & Wendy.)
Anne Morriss (Leadership Visionary)
Chris Hemsworth (Actor mapped out his own future death.)
Alua Arthur (Death Doula living with verve)
Refik Anadol (Media Artist who interpret & transform more than 200 years of art at MOMA)
Jessie Reyez (Singer/songwriter debut album, Before Love Came To Kill Us)
The Beatles (generated by AI)