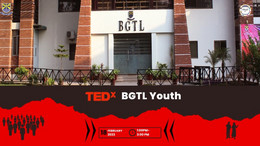 This Ted X event in school is being held to create awareness among our students about "climate change" so that they can become responsible citizens and play a significant role in building a responsible and environment friendly world.
Speakers
Speakers may not be confirmed. Check event website for more information.
Environmental Educator
Azal Zahir is Founder to AbadTak, an environmental education social enterprise. She has a Masters degree from New York University in Environmental Education. She has been in the teaching profession for the last 5 years, is a freelance environmental journalist and researcher. She has previously worked with the EU Punjab Access to Justice, Lahore Conservation Society, IEI Pakistan, Adventure Foundation Pakistan and TDF. Enabling her to work with both public and private institutions and with individuals at the grassroots level.
Dean at NUR International University
PhD in psychology from university of Warwick, UK, MSc Psychology from Govt College Lahore with roll of honour. HEC approved PHD supervisor. A Schimmel scholar and winner of John Templeton Science religion course award. Served Punjab university institute of applied psychology from 1991 to 2018. Currently at NUR international university as Dean Arts, social sciences and Humanities. Also patron of Pakistan sustainability network. Part of team that developed SDG course. Patron of environmental society at NUR university. Honorary consultant and wellbeing trainer for Punjab rescue services. Participant at inter faith initiatives like Global peace initiative by women and Christian Muslim dialogue. Researcher, academic, trainer, citizen contemplative and a traveller.
Enterprenuer/Sustainabilty Consultant
Environmental strategist, water & sustainability consultant and entrepreneur, is Partner and Director Water and sustainability at Umbrella Consulting, holds a Master's Degree in Environmental Science and Management, and numerous certifications in water systems, policy and governance, environment and Health & safety standards. She is an expert in developing Capacity building and training programs for challenges like Gender equality and climate change, WASH programs in urban and rural communities. She is an accredited specialist and trainer with Alliance for Water stewardship Standard based in Scotland.