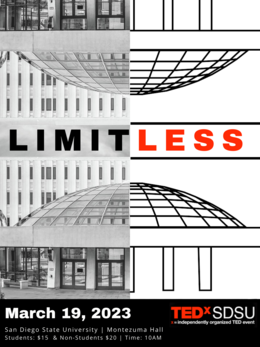 TEDxSDSU is thrilled to announce our 9th annual event proving what we know to be true — that our campus and city is filled with ideas worth sharing. This year's TEDxSDSU event, "Limitless," will be hosted on March 19th, 2023 in Montezuma Hall within the Aztec Student Union at SDSU.
"Limitless" is inspired by San Diego State's iconic dome entrance library. Like libraries, our goal is to bring our community together to tell stories, spark curiosity and share ideas worth spreading. "Limitless" will explore the barriers and boundaries that so often get in the way of our goals and how we overcome and break such limits. The event will promote the perseverance of people and how barriers can be used to propel us, rather than stopping us from achieving our goals.
Speakers
Speakers may not be confirmed. Check event website for more information.
Aiden Grayson
Cybersecurity Consultant
Aiden Grayson is a Cybersecurity Professional, SDSU Alumnus, and serial Entrepreneur with a passion for finding innovative solutions to some of the world's most challenging problems. In college, his passion for problem-solving led him to be involved with the Lavin Entrepreneurship Program and the ZIP Launchpad, where he received the inspiration and resources to develop a beach-focused locker company. Outside the classroom, Aiden is involved in the Digital Infrastructure community and is the proud recipient of the iMasons "IM100" award. Today Aiden works as a Cybersecurity Consultant helping develop high-impact cybersecurity solutions for clients across the globe. In his free time, Aiden enjoys rock climbing, board gaming, and endurance running.
Anachristina Morino
Systems Engineer at NASA Jet Propulsion Laboratory
Anachristina graduated from San Diego State University in 2017 with a Bachelor's degree in Aerospace Engineering, and received her Masters in Astronautical Engineering from the University of Southern California in 2022. After graduation from SDSU, she started working full time at NASA's Jet Propulsion Laboratory as an Avionics Systems Engineer on the Mars 2020 Perseverance Rover. Currently she is a Systems Engineer on the Europa Clipper Assembly Test and Launch Operations Team. In 2021, she was selected as one of SDSUs Rising Aztec's, for her early career achievements and commitment to the university through mentorship and philanthropy. In her spare time, Ana enjoys snowboarding with her husband (SDSU '17) and spending quality time with her pup, friends and family.
Founder of Rumi with a View
Ari Honarvar is a writer, activist, and artist dedicated to building bridges between the arts, social justice, and well-being. She is a Musical Ambassador of Peace and conducts Resilience through Joy workshops on both sides of the U.S.-Mexico border and in Europe. Her work has been featured in The Guardian, Washington Post, New York Times, and elsewhere. She is the author of Rumi's Gift Oracle Cards and her critically acclaimed novel, A Girl Called Rumi, is based on Ari's experience growing up in post-revolution Iran.
Brandon B. Harrison
Assistant Director at SDSU's Parma Payne Goodall Alumni Center
Brandon B. Harrison has spent 15 years in the education field and in church ministry. He currently works at his alma mater, as the Assistant Director of the San Diego State University alumni center where he oversees all aspects of operations and events in the facility. He is also the founder of Marriage Forever, where he does pre marriage coaching and has officiated the wedding of hundreds of couples all over Southern California. He is an author, podcast host, and public speaker; which has helped him fulfill his purpose of impacting people's lives through education, spiritual well-being and relational health. Most importantly, he is a husband, and father to three amazing children.
Jasmine Le
Content Creator
Jasmine Le is a Vietnamese-American social media influencer whose content revolves around sharing her passion for fashion, beauty, and lifestyle. From fashion hauls to makeup tutorials, Jasmine is dedicated to using her platform to helping her followers and audience at large to look and feel their best while embracing their individuality and expressing themselves through their personal style. In addition to her fashion and beauty content, Jasmine also shares relatable lifestyle content to show a holistic approach to self-care and wellness. As an advocate for body positivity, self-love, and mental health, Jasmine frequently shares her own struggles and her ongoing experience learning to embrace herself. Her relatable and authentic approach to her content and her community has helped her accumulate a sizable following on various social media platforms—like YouTube, Instagram, and TikTok—while staying true to herself and her interests.
Krishna Kabra
CEO of San Diego Children's Discovery Museum
Krishna Kabra is a conscious innovator and strident entrepreneur with a natural skill for building organizations in both the for and non-profit worlds. Through joyful discovery and stretchy thinking, she dives in head first to tackle the impossible through imaginative solutions. She recently joined the non-profit world after just over two decades in corporate consulting, where she led innovation and brand strategy projects for some of the world's largest brands. CEO of San Diego Children's Discovery Museum, she is sustainably growing the organization so that all children can spark a love of learning through hands-on, immersive, and playful experiences. Krishna received her BA from Manchester University and her MSc from Bristol University in the UK.
Shawn Brown
Educator and Author
Shawn Brown has served in the field of education for over 25 years. She received a Master's degree in Educational Leadership. She is the founder and Executive Director of Pasadena Rosebud Academy Charter School. Currently, she serves as a California Charter School Association (CCSA) Member Council Representative for Serving Black Students for Excellence. Ms. Brown is the author of The Purpose Driven School, a book that is a blueprint for educational leaders on their quest to fashion great schools. She is a practitioner and endeavors to share her knowledge and wisdom with educational leaders, governing boards, policy makers, parents, and the community. The calling on her life continues to motivate and inspire her to work towards improving education for ALL students.
Sophie Sajnani
Founder of Bellevue Bites
Sophie Sajnani is a leader in the restaurant and hospitality industry, driven to help local restaurants increase their profits and survive hard economic times. During the pandemic, she heard about how Uber Eats and other food apps were taking a large cut of restaurants' profits. On that same day, she launched Bellevue Bites: a free and promotional platform that shares deals from local restaurants when customers order directly from the restaurant rather than through a third-party app. She has since hosted five food crawls and two cooking classes in the US and Canada to raise over $15,000 for restaurants and other important causes. Her work has been featured on the national Live with Kelly & Ryan Show, The Seattle Times, and local outlets, as well as been recognized by Ashton Kutcher, Hadi Partovi, and others. She continues to explore how technology can be used in the restaurant industry and is currently building an app version of Bellevue Bites to be released next fall.