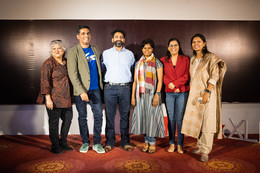 We believe that individuals have the power to transform their own reality and shape the world around them. By sharing inspiring, thought-provoking, and action-stimulating stories of diverse pioneering changemakers, we seek to encourage the imagination of a new world.
Our speakers shared their experiences of pushing boundaries, defying the status quo, and challenging conventional wisdom to create a more sustainable future. Through their ideas and insights, we hope to inspire and empower our audience to reshape their own reality and contribute towards building a better world.
Speakers
Speakers may not be confirmed. Check event website for more information.
Disha Singh
Co-founder at Zouk
Disha Singh is the co-founder of Zouk, a Modern Indian Lifestyle Brand. With a passion for creating stylish & functional products, Disha has worked tirelessly to bring her vision of a proudly Indian and cruelty-free world to reshape life through her brand. Disha's innovative and forward-thinking approach has earned her recognition and praise , making her one of the most exciting and inspiring figures in the world of lifestyle brands from India.
Jacinta Kerketta
Freelance Journalist, Poet, Writer
Born in the West Singhbhum district of Jharkhand, Jacinta through her poetry, has highlighted the different questions and perspectives of these indigenous populations, and has published her poems at national and international levels. She has also travelled through Jharkhand and Odisha to emphasize the impact of risk management programmes on those living inside forests, and grassroot democracy among indigenous populations. Kerketta is also working on short poems and diaries for children, which are published in the magazine Cycle, which is published by a Bhopal-based trust in an attempt to reshape the lives of many of the Adivasi community.
Photographer, Co-founder at Stories by Joseph Radhik
Joshua Karthik is the co-founder of Stories by Joseph Radhik, India's internationally renowned wedding photography firm. With half a billion views and around 460 shoots in 35 countries around the world, Joshua has also been an award-winning photographer, with wins at PX3 Paris, Tokyo Foto Awards and more. Acknowledged as an expert in the world of wedding photography, Joshua has been instrumental in reshaping consumer behaviour in this segment over the last ten years. As an educator and mentor, he has also worked with hundreds of entrepreneurs in the world of photography and allied spaces. Being an alumnus of XLRI, Joshua was also one of the founding members of XLRI's own band - Bodhi Tree.
Kabita Singh
YouTube Chef, Entrepreneur
Kabita Singh is a popular YouTube chef and Indian food blogger from Uttar Pradesh who rose to fame with "Kabita's Kitchen"- her YouTube channel that focuses on teaching quick recipes. A former banker by profession, Kabita's passion for cooking was re-ignited in 2014 enabling her in reshaping the world of food and cooking with over 12 million subscribers and a cumulative of over 2.5 Billion views on YouTube.
Shatbhi Basu
Director, STIR Academy of Bartending
Shatbhi Basu, India's first woman bartender, has seen it all in an illustrious career as a consultant, brand ambassador and a mixologist that has spanned almost four decades. She was recognised by the President of India and the Ministry of Women and Child Development. From a dry martini made from memory in a Chinese restaurant to leading her own academy, she has reshaped her path way up through the industry and today is an internationally recognised consultant and master mixologist. Shatbhi began her career at the age of 21 and found herself enamoured by the bartending and mixology world, she has defined a groundbreaking career path.
Varun Madan
Chief People Officer, Xiaomi India
Varun Madan has over 22+ years of extensive experience in HR. With an executive MBA in HR and Personnel Management from XLRI Jamshedpur, Varun has been associated previously with OLX India, Make My Trip and P.E. Analytics. "The HR Guy" as he likes to call himself, Varun brings along with him a journey of reshaping the full employee lifecycle through his career as a distinguished HR professional.