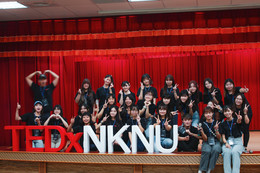 In the spirit of ideas worth spreading, TEDx is a program of local, self-organized events that bring people together to share a TED-like experience. At a TEDx event, TEDTalks video and live speakers combine to spark deep discussion and connection in a small group. These local, self-organized events are branded TEDx, where x = independently organized TED event. The TED Conference provides general guidance for the TEDx program, but individual TEDx events are self-organized (subject to certain rules and regulations).
National Kaohsiung Normal University Activities Center (Ho-Ping)
No. 116號, Heping 1st Rd, Lingya District, Kaohsiung City, 80201
Second Floor
Kaohsiung, Kaohsiung, 80201
Taiwan
Event type:

University (What is this?)
See more ­T­E­Dx­N­K­N­U events
Speakers
Speakers may not be confirmed. Check event website for more information.
林依柔 Lin, Yi-Rou
林依柔是一位專業的聲語表達師,她將古典音樂元素結合到溝通表達當中,整合研發出一套專屬的聲音表達訓練系統,讓學員在學習時可以找回聲音的內在力量,發揮真正的溝通聲命力。
林品均 Lin, Pin-Jyun
林品均熱愛研究投資理財,某天她把自己所學的理財知識分享到instagram上,意外地在一年累積超過十萬追蹤者,她希望透過自己百分百的努力,讓更多人喜歡理財。
潘瑞根 Pan, Ruei-Ken
潘瑞根老師被譽為「田徑場上的魔鬼教練,人生路上的暖心老師」,以「身教、言教、境教」的教學原則投入田徑教育現場40年,影響眾多選手的一生。
皓宜 許
許皓宜是一位擅長「用關係說故事」的心理諮商師,近年來耕耘於「空心人」之心理挑戰,希望能帶著大家溫柔梳理自己的內心,好好接住自己的內在。