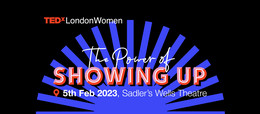 Women, non-binary, genderqueer people and their allies the world over are rising up, breaking out and pushing boundaries. Whatever their focus and talent – business, technology, art, science, politics – these pioneers are joining forces to drive real, meaningful change.
TEDxLondonWomen is your go-to event for leading voices discussing the most important issues in feminism, women and girl's issues, LGBTQIA+ rights, climate change, work, society, politics, culture and more.
Returning to IRL after two years of virtual and hybrid events, we cannot wait to bring you ideas, inspiration and skills. Let's create a just, equitable, prosperous and sustainable world, together.
We're #ShowingUp - are you?
Speakers
Speakers may not be confirmed. Check event website for more information.
Anneka Deva
Money Movers Lead
Anneka leads Money Movers, a movement of women taking climate action by moving their personal finances, using the power of peer support. Anneka is also Partnerships Director at Huddlecraft, specialists in peer-powered approaches to learning and change. She has previously worked at The Advocacy Academy and the University of Birmingham, and she founded TEDxBrum in Birmingham, UK.
Ben Pechey
Writer, LGBTQIA advocate & content creator
Ben is a writer, presenter, content creator, LGBTQIA advocate, diversity and inclusion consultant and author. They have worked with major brands such as Manolo Blahnik, Condé Nast, Dr. Martens, the NSPCC, Virgin Atlantic and many more. They uplift and educate through media. They have had words in print and online for Cosmopolitan, Women's Health, Diva and many more. Their debut book - The Book of Non-Binary Joy - was published in May 2022.
Ben Hurst & Jamie Windust
Activists
Ben Hurst is an activist, advocate, speaker, host, presenter, facilitator, trainer and model. As the Head of Facilitation at Beyond Equality, he focuses on deconstructing and reconstructing masculinities with men and boys. Ben also works as a freelance Diversity and Inclusion Consultant with a focus on race and gender. Ben is the co-host of TEDxLondon podcast, Climate Curious. Ben is in conversation with Jamie Windust, an author, model, broadcaster, TEDxLondonWomen speaker and Contributing Editor at Gay Times.
Brown Girls Do It Too
Podcasters
For most Asian girls, openly chatting about sex is firmly off limits. Enter Poppy Jay and Rubina Pabani, co-hosts of the award-winning podcast and new stage show, Brown Girls Do It Too. Fierce, funny and wonderfully frank, Poppy and Rubina have sex and aren't ashamed to talk about it. Rubina is a producer and podcaster, Head of Short Form Content at ITN Productions and recently a new Mum. Poppy is a BAFTA nominated director known for her provocative narratives in observational documentaries, specialist factual and current affairs.
Donna Patterson
Founder of Let's Talk Work
Donna is the founder of Let's Talk Work, an organisation which helps individuals ensure their rights at work are met. Donna founded Let's Talk Work after she successfully won an employment tribunal claim against one of largest supermarkets in the UK, Morrisons, where she represented herself throughout the proceedings. Let's Talk Work helps demystify employment tribunals, support people to have difficult conversations at work and drive change in how employers treat working parents.
Feruza Afewerki
Storyteller & founder of Gold & Ashes
Feruza is an Eritrean-British creative storyteller, mental health advocate and founder of Gold & Ashes. Gold & Ashes is a visual series sharing the stories of, and by, the Grenfell community, as a way to honour the lives of lost loved ones. The visual series includes a published photobook, film and exhibition. Feruza is in conversation with Errol Donald. Errol is an artist, therapeutic wellbeing practitioner and director of Mindspray. Mindspray is a creative platform that tells the stories of communities, where creative talent is overlooked and under-represented - inspired by Errol's own experience as a pioneer and central figure within UK graffiti art.
Janey Starling & Seyi Falodun-Liburd
Co-directors of Level Up
Janey and Seyi are feminist organisers and co-directors of Level Up, a UK feminist organisation campaigning for gender justice. Janey lives to create spaces for women's collective rage, joy and solidarity and is currently focused on a campaign to end the imprisonment of pregnant women and new mothers. Seyi is a member of Project Tallawah collective, an emerging Black feminist community resource led by and for Black/Global Majority women, girls and gender non-conforming people.
Josephine Latu-Sanft
Communications specialist
Josephine has worked for 18 years in the field of communications, as a journalist, communications professional and educator. She has spent the last decade in multilateral organisations, working across more than 90 countries to shape messages around global issues, such as climate change, ocean protection and sustainable development. Josephine is a strong advocate for raising the voice of small island developing nations (or Big Ocean Sustainable States) in global discussions on issues that affect them the most, such as climate change.
Olivia Rose Shouler & Sarah Lisney
Choreographer & Poet
Olivia and Sarah are performers who are aiming to make positive change happen through self-reflection, movement, and the power of the word. Olivia is a choreographer, dancer, and faculty member of Boy Blue Entertainment and Laban Conservatoire. She enjoys performing commercially and creating artistic, powerful work in different styles. Sarah is an organiser of Poetic Conscience and a creative artist who develops her artistry through poetry and movement. She has utilised her stylistic dance knowledge to create inspiring pieces to inform, educate, and empower people.
Sahar Zand
Reporter & filmmaker
Sahar is a British-Iranian award-winning Broadcast journalist and multimedia documentary filmmaker. She has presented and produced documentaries and reported on current affairs in some of the most remote and hostile environments for international broadcasters including the BBC, Channel 4, ITV, Vice Sky and a number of other international broadcasters. Sahar fled Iran at 12 years old and after years of living in refugee camps across Europe, she eventually arrived in the UK. The adversity faced during these years has given Sahar an insight into marginalised communities and allows her to report from a unique perspective rarely seen in mainstream media.