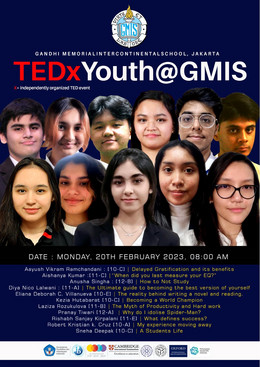 This event is purely school based event where students are encouraged to be a speaker. It goes through a rigorous process of audition and selection of speakers and ultimately a few best speaker get chance to spread their original idea. There are 11 students speaker in this event and every talk have its own story that can motivate many in future.
Gandhi Memorial Intercontinental School
Jl. HBR Motik Blok D6 No.Kav 1, Pademangan Tim., Pademangan, Kota Jakarta Utara, Daerah Khusus Ibukota Jakarta
Jakarta, Jakarta Raya, 10630
Indonesia
Event type:

Youth (What is this?)
See more ­T­E­Dx­Youth@­G­M­I­S events
Speakers
Speakers may not be confirmed. Check event website for more information.
Aayush Ramchandani
Student
I am Aayush as a student I believe that results are better when successful people practice their sacrifices. The people who follow delayed gratification turn out to be successful in the future.
Aishanya Kumar
Student
Beneath a carefree and vivacious exterior, I don a deeply sensitive soul that has an extreme fondness for trying to understand the human condition. A name that is asked for its meaning of, more than it is even said, I'm Aishanya Kumar, 16 years old.
Anusha Singha
Student
"Each and every one of us here has our own specific personality that was shaped by all our social interactions and experiences. Your current personality could stay the same for ten or twenty years into the future, but certain behavioral characteristics are bound to change as you face challenges in life. Every situation affects your personality, whether it's attending an important meeting or catching up with an old friend. Greetings! My name is Anusha Singha and I'm a student, currently studying in the 10th grade, at GMIS, Jakarta. My hobbies include reading, writing, and sketching. Being introverted, this talk challenged me to step out of my comfort zone and share my views on how the current pandemic changed the personality of people around me. Since these personality traits were built around social interactions, what would happen if they were put under almost an entire year of solitude?"
Diya Lalwani
Student
In this TED Talk, Diya Nico Lalwani, the speaker, shares what it truly means to be perfect and provides great tips and methods to allow one to become the best version of themselves.
Eliana Villanueva
Student
My name is Eliana and I'm 15 years old, in Grade 10-E. I'm a writer and an occasional reader, and currently in the process of writing my own book. With that said, I would like to share my experience on how I discovered my love and passion for writing through reading novels in my spare time, as well as the conflicts I faced when writing.
Kezia Hutabarat
Student
Singing had always been something that defined me. When an opportunity to join an international performing arts competition came before me, I wasn't able to envision a new stepping stone in my singing journey.
Laziza Rozukulova
Student
Hello everyone! My name is Laziza Rozukulova! And I'm here to talk about working smarter, not harder. The struggles in studies have been chasing me throughout school years.
Pranay Tiwari
Student + Occasional writer
My name is Pranay Tiwari and I am a 16 year-old student from Jakarta, Indonesia. Born and brought up in India, and shifted to Indonesia at the age of 13, I had many opportunities and experiences of interacting with new people. Human interaction is an aspect of human life that has always fascinated me because the deeper you go into it, the more the strings of relationship become intricate. There are many other aspects of the world that always attract my attention in a discussion, such as mental pressure, the human and natural environment, human rights, the global development, to name a few. My hobbies include reading, writing, dancing and scrolling thought YouTube. I really like acting and I am showing great interest towards Performing Arts. I have also taken part in the World Scholars' Cup, where my team had been selected to compete in the last round: the Tournament of Champions.
Rishabh Kirpalani
Student
Life is beautiful and it gets even better when we appreciate the beautiful small things that happen in our life and I strongly believe in the above. I am a student from the commerce stream, I am very passionate about investment banking and I aspire to build a career around that.
Robert Cruz
Student
Hypothetically speaking, if you knew something were to end, when, how, and why, would that change how you act? This type of question is the same question i've asked myself every time I have moved, and every time I have moved ive always chosen the same path, the same road, and reached the same destination.
Sneha Deepak
Student
I am Sneha Deepak of GMIS Jakarta currently studying in grade 10, and this talk revolves around a students life's of ups and down.