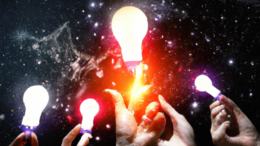 TEDxBashundharaRd seeks to provide a platform for inspiring people to foster a society where individuals and communities actively participate in shaping their future through the power of collective imagination and collaboration. We believe in breaking down barriers and limitations, and co-creating solutions for the global challenges we face. A future where diverse sectors, disciplines, and communities come together, share their ideas and work towards a common goal of a better future for all.
Speakers
Speakers may not be confirmed. Check event website for more information.
Afsana Mimi
Bangladeshi Actress, Model, and Director
Afsana Mimi is a Bangladeshi actress, model and director. She had acted in more than two dozen Dramas and films. She also directed many play writes and films. She introduced herself as a director in the year 2000 by directing Bandhan. Some of her directed dramas are Grihogolpo , Bandhan , fagun er Pous palaDoll's house.
Bangladeshi filmmaker
Amitabh Reza Chowdhury is a Bangladeshi filmmaker. In his career, he has directed nearly fifteen hundred television commercials. Amitabh has also directed a few television films to critical acclaim.
Anupam Debashis Roy
Columnist & Author
Anupam Debashis Roy is a multi-talented Bangladeshi figure, known for his contributions as a columnist, author, activist, and editor. He serves as the editor and organizer of Muktiforum, a platform for writers, artists, and activists committed to building a progressive and inclusive society. Anupam is widely recognized for his political activism, particularly his columns and efforts against authoritarianism in Bangladesh and beyond. Anupam's writings showcase his passion for social justice and his commitment to progressive ideals. He is the author of several notable works, including "Not All Springs End Winter: Political Economy of Mass Youth Movement Before, During and After Shahbag," a book of poems "Opraproboyoskota (Non-adulthood)," and the storybook "Sontan (The Offspring)."
Asif Bin Ali
Public Relations Expert
Mr. Ali is a public relations expert, documentary maker, and journalist. At the same time, he is working as a lecturer at North South University, Dhaka, Bangladesh. He has received an MA in Journalism, Media, and Globalization jointly awarded by Swansea University, the UK; Aarhus University and the Danish School of Media and Journalism, Denmark.
Ayan Pal
Indian Author & Public Speaker
Ayan Pal is a multi-talented IBM Accredited IT Consultant who excels in not only consulting but also in writing and public speaking. He is the author of the acclaimed novel Confessions on an Island, and his short stories have been featured in the anthologies Chronicles of Urban Nomads and 21 Tales to Tell. He co-authored India's first composite novel, Crossed and Knotted, which was recognized by the Limca Book of Records.
Media Anthropologist
Dr. Harisur Rahman is an Associate Professor in Media and Journalism at North South University in Dhaka, Bangladesh. He is the author of the book Consuming Cultural Hegemony: Bollywood in Bangladesh which has been published by Palgrave Macmillan.
Expert Writer, Researcher
Dr. Shamsuzzaman is an associate professor in the Department of English at North South University in Bangladesh. He received his Ph.D. in English Education from the University of Canterbury in New Zealand, His research interests include second language writing, applied linguistics, and teaching methods. Shamsuzzaman has taught a variety of undergraduate and graduate courses.
Dr. Samiksha Koirala
Gender and Media Specialist, Nepal
Dr. Koirala completed her Ph.D. in Journalism and Gender from the University of Oslo. Koirala is also a think tank member of the Ministry of Women, Children and Senior Citizen in Nepal. As a former journalist and a media researcher; Koirala has been closely working with different INGOs and UN agencies mainly in the area of gender, media and digital safety.
Jamal Uddin Jamy
Career Coach & Communication Trainer
Mr. Jamy is well known for inspiring and motivating young corporates and students. As a speaker and corporate trainer, he has spoken at different local and international seminars, workshops, and conferences where he helped over ONE LAC people to take lead in their lives. Additionally, Mr. Jamy is also the author of numerous bestselling books in Bangladesh. He has written several books on skills development. In Toastmasters, Jamal Uddin Jamy is the Associate Club Growth Director of District 124. Prior to that, he was Division L Director (Bangladesh), Area L5 Director, Club President, VP Education, and Club Coach.
Lazina Mona
Entrepreneur and a Loving Mother
Lazina is a true example of perseverance and commitment leading to success. She's an entrepreneur and a loving mother. After suffering from a life-altering medical condition which led her to be bedridden for more than a year, she beat all the odds and is taking on newer challenges of life. Her life really is an inspiration to people near and far.
M. Zahid Hossain
Businessman & Community Worker
Mr. Hossain is an inspirational leader and a successful entrepreneur. He is the Managing Director of the Multitex Group, a successful garment sourcing group in Bangladesh. Hossain has been an active member of Toastmasters International for the past eight years and has been a leader, mentor, and speaker in the organization.
Morshed Mishu
Bangladeshi Cartoonist
Morshed Mishu is a Bangladeshi cartoonist, illustrator, and wall/graffiti artist. He is a self-taught cartoonist who has been actively involved in the fields of cartoons and illustration for over 15 years. His works have been featured in various publications, both online and in print, both nationally and internationally. He is the Assistant Editor of Unmad, the longest-running cartoon satire magazine in South Asia. He was included in Forbes' list of 30 Under 30 in 2019 under the Media, Marketing, and Advertising category. His works have been recognized in various awards, including the Best Cartoonist Award at the Jatiyo Charukala Utsab in 2012.
Teacher, Researcher
Ms. Pervin is a faculty of English at North South University and a Ph.D. candidate. Her research interests include English Language teaching, English composition, Monolingual classroom, and Sexism. She has published several articles in international journals and has presented her research at various conferences around the world
Marketing Expert, YouTuber
Mr. Salim is a content creator, entrepreneur, and marketing consultant. He is widely popular among the youth for his witty and informative take on Marketing as a subject and as a practice. He has more than 1,00,000 subscribers on YouTube and 276K followers on Facebook.
Nazneen Ahmed
Country Economist at UNDP, Bangladesh
Dr. Ahmed has extensive experience in conducting policy research, formulation of project proposals, design and implementation of projects, analysis of data and research findings, and in report writing. Her work mainly focused on developing countries, and she has conducted research in many countries including Bangladesh, India, Pakistan, Bhutan, Nepal, Sri Lanka, Russia, Kyrgyzstan, Tajikistan, and Malaysia. She has also been a part of the review panel of many international grants and projects.
Shajal Noor
Bangladeshi Model & Actor
Shajal Noor Abdun Noor, also known simply as Shajal, is a talented Bangladeshi actor and model. He rose to prominence in the entertainment industry after starting his career as a model and transitioning into acting on television. Shajal has appeared in several films, leaving a lasting impact with his captivating performances and natural acting abilities. In addition to his work on the silver screen, Shajal has made a name for himself in the theater world, acting in several notable plays. He has starred in a number of acclaimed films, including "Jin," "Haar Jeet," and "Run Out." With his versatile acting skills and undeniable talent, Shajal continues to be one of the leading actors in Bangladesh, captivating audiences with his every performance.
Syed Ahmed Shawki
Bangladeshi Filmmaker
Shawki is a Bangladeshi film director and producer. He is known for his unique visual style and his ability to tell thriller stories with heart and emotion. Syed Ahmed Shawki's remarkable direction of 'Taqdeer', the highly acclaimed mystery-thriller-crime series, has been widely praised. Additionally, his previous work, 'Sincerely Yours, Dhaka', was a contender for Oscars 2021.
Syed Ibrahim Saajid
SAVP & Head of Internet Banking at City Bank
Mr. Saajid is a dynamic leader in the digital product development space. He has 10+ years of experience in project management, pricing strategy, and customer experience management, having worked in the Banking, FinTech, and Telecom industries. Besides, He is a former Area Director of Toastmasters International.
Psychologist
Mr. Amin is a prominent psychologist and successful entrepreneur. He is the Co-Founder & Chairman of LifeSpring.
Zakia Bari Mamo
Bangladeshi Actress
Zakia Bari Mamo is a renowned Bangladeshi actress who first rose to prominence after winning the Lux Channel I Superstar beauty pageant in 2006. Her striking beauty and talent quickly caught the attention of the entertainment industry, leading to her debut in the silver screen with the film "Daruchini Dip," directed by Toukir Ahmed and based on a story by Humayun Ahmed. Since then, Zakia has continued to captivate audiences with her stunning performances, earning recognition with multiple National Film Awards. Her achievements in the entertainment industry are matched by her academic excellence, as she holds a first-class honors and master's degree in Drama and Dramatics from Jahangirnagar University. With her beauty, talent, and charisma, Zakia Bari Mamo continues to shine as a leading actress in Bangladesh, inspiring audiences and leaving a lasting impact on the entertainment industry.
Organizing team
Anan Hasnat

Curation

Kazi Rafzan E Rubiet Nibir

Team member

Mahedi Hasan Ratul

Partnerships/Sponsorship

Mahfujul Islam Tamal

Marketing/Communications

Marusha Namia

Curation

Nusrat Jahan

Production

Ramisa Rifat Ria

Team member

Sabiha Zakir

Marketing/Communications

Samita Zahin Chowdhury

Team member

Sazzad Nayeem

Operations