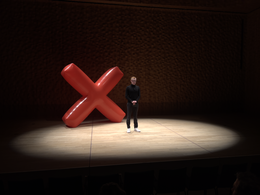 TEDxNiendorf is a virtual TEDx event organised out of Hamburg by Jonathan Meier.
The Event ist named based on the organizers birth district "Niendorf".
Our TEDx event is a fully digital event which, in line with our tagline, features international speakers who are fundamentally changing their fields, industries, countries and scientific disciplines through innovative thinking, most of the time with a remaining global impact.
Our goal is to spread outstanding ideas, fascinating topics and valueable knowledge. Our event features speakers who have fundamentally changed and advanced industries, countries, sciences and so many other fields, and continue to do so. We want to inspire innovation, progress and helpful discourse, and according to our tagline "Think different" challenge people to think differently and to strive for a positive impact.
Speakers
Speakers may not be confirmed. Check event website for more information.
Alexander Müller
Managing Partner at ELBJETS
Anders Hofman
The fist person to complete a long distance triathlon (Ironman) in Antarctica, which was documented by Yes Theory in Project Iceman
Anthony Leggett
Theoretical Physicist, Nobel Prize in Physics, Most Excellent Order of the British Empire, Fellow of the Royal Society
Arthur Branch
Owner and operator of several well-known space news accounts (e.g. "Everything Space"), writer for Primal Nebula
Artificial Intelligence
The First TEDx Talk fully generated by AI.
Ashlee Vance
Best-selling author, known for e.g. his Elon Musk biography, Emmy-nominated host and writer of Hello World at Bloomberg
Brendan Hall
Documentary filmmaker, directed projects for e.g. National Geographic, Google and Adobe, dearMoon crew member
Carl Wieman
Physicist and Educationist, Nobel Prize in Physics
Cathie Wood
Founder, CEO and CIO of Ark Invest
Christopher Pissarides
Economist, Nobel Memorial Prize in Economic Sciences, Knight Bachelor
Claude Turmes
Minister for Energy and Minister for Spatial Planning in Luxembourg
Dan Carlin
Host of the Hardcore History Podcast, which e.g. won the People's Choice Podcast Awards, Host of Hardcore History: Addendum and of Common Sense, Author
Darren Margolias
Executive Director of Beast Philanthropy, the Philanthropy of MrBeast who is the largest content creator in the world with over 400 million followers in total
Edmund Phelps
Economist, Nobel Memorial Prize in Economic Sciences, Chevalier de la Legion d'Honneur, Director of Center on Capitalism and Society
Edvard Moser
Psychologist and Neuroscientist, Nobel Prize in Physiology or Medicine
Georges Gilkinet
Deputy Prime Minister and Minister of Mobility and the National Railway Company in Belgium
Gerard 't Hooft
Theoretical Physicist, Nobel Prize in Physics
Gerhard Friesen
Director of charitable projects in Ukraine, Turkey, etc.
Isabelle Boemeke
Model, world's first nuclear energy influencer and creator of the online persona "ISODOPE"
James Heckman
Economist, Nobel Memorial Prize in Economic Sciences, second-most influential economist in the world according to RePEc
Joachim Frank
Biophysicist, Nobel Prize in Chemistry
John Glen
Chief Secretary to the Treasury of the UK
John Mather
Astrophysicist and Cosmologist, Nobel Prize in Physics, Senior astrophysicist at the NASA Goddard Space Flight Center, Senior project scientist for the James Webb Space Telescope
Jordan Schwarzenberger
Manages The Sidemen, Europe's largest YouTube group with over 250 million followers in total, Founder of Arcade Media, Side+, Sides and other Sidemen Brands
Jörg Steinbach
Minister for Economy, Labor and Energy of Brandenburg, Ex-President of TU Berlin
Joseph Bradley
CEO of TONOMUS (the first subsidiary and cognitive technology foundation of NEOM), Ex-Vice President at AT&T, Cisco and HCL Technologies
Kai Hesselmann
Founder and Managing Partner of DealCircle
Karim Iliya
Photographer and filmmaker, dearMoon crew member, Founder and whale swimming Guide at Dance With Whales
Lennart Rugen
Technologist, expertise in social media and persuasive discussions
Luciano Belviso
Founder and CEO of Blackshape
Marc Gebauer
Germany's most prominent luxury watch seller and well-known social media personality
Michael Köhler
Founder and CEO of Silent Yachts
Morten Bødskov
Minister for Industry, Business and Financial Affairs in Denmark
Paolo Tiramani
Industrial designer, Founder, CEO and majority shareholder of Boxabl
Paulette Lenert
Deputy Prime Minister, Minister for Consumer Protection and Minister of Health in Luxembourg
Peter Doherty
Immunologist, Nobel Prize in Physiology or Medicine, Australian of the Year (1997), Companion of the Order of Australia, Fellow of the Royal Society
Philipp Amthor
Germanys most well-known young politician and member of the German Bundestag
Philipp Schröder
Founder and CEO of 1KOMMA5°, Ex-Country Director Germany & Austria of Tesla
Rafaela Pimenta
Soccer Player Advisor (e.g. Erling Haaland); widely considered as "the most powerful woman in soccer"
Ramin Djawadi
Composer who scored e.g. Game of Thrones®, Prison Break and Iron Man, two-time Emmy® Award-winner and three-time Grammy® nominee, over 2,5 million monthly listeners and over a billion streams on Spotify, performs the Game of Thrones® Live Concert Experience
Rebecca Goldstein
Philosopher and author, known for e.g. Plato at the Googleplex, Recipient of the National Humanities Medal
Rhiannon Adam
Photographic artist, dearMoon crew member, author known for e.g. Big Fence / Pitcairn Island
Robert Aumann
Mathematician, Nobel Memorial Prize in Economic Sciences
Shi Yan Ming
34th generation Shaolin warrior monk, founder of the USA Shaolin Temple
Steve Jurvetson
Managing Director & Founder of Future Ventures, Board Member at SpaceX, Ex-Board Member at Tesla
The Rabbit Hole
The well-known anonymous Twitter Account "The Rabbit Hole"
Thomas Südhof
Biochemist, Nobel Prize in Physiology or Medicine, Fellow of the Royal Society
William Phillips
Physicist, Nobel Prize in Physics
Yee Lee
VP Growth at Terraformation