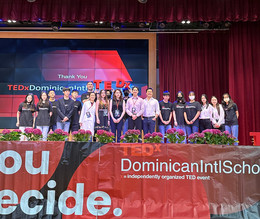 Straight, unapproachable, infinite… Most probably, you have learned this concept in mathematical studies. Consider how humans are like algebraic symbols, reaching towards a fleeting goal with no avail. This restriction or hindrance, whether real or imaginary, is what we would like to present to you at our TEDxDominicanIntlSchool 2023 event: "The Asymptote."
Similar to the unseen, "asymptotes" are so vague and disconcerting. This in turn gives humans more fear and desire to conquer them, even though they may appear parallel to our lives. Ultimately, our theme for this event calls for redefining life's limitations and rebuilding its perspective, challenging one to explore the unknown.
Speakers
Speakers may not be confirmed. Check event website for more information.
Brian Mo
Renowned Taiwanese Singer
Brian Mo is a renowned Taiwanese singer, songwriter, and actor. Known for his soulful vocals, captivating stage presence, and heartfelt lyrics, Brian has made a significant impact on the music industry in Taiwan and beyond. Growing up in a musically inclined family, Brian developed a deep passion for music from an early age. Encouraged by his supportive parents, he began singing and playing various musical instruments, including the piano and guitar. His innate talent and dedication to his craft quickly became evident as he honed his skills and pursued his dream of becoming a professional musician. A graduate from the Economics Department of UC Berkeley with a minor in music, Brian Mo worked in investment banks and the technology industry after graduating. With more than a hundred thousand of Instagram followers, Brian is ready to share his musical journey and what he has discovered along the way.
Jaime Cham
PicCollage Co-founder
Jaime Cham got his start programming his own video games on his Mom's original IBM PC in Panama. He studied Engineering at Georgia Tech and Stanford, then worked for Silicon Valley companies and startups. In 2008 he started Cardinal Blue with John Fan, and in 2010 they launched PicCollage, a delightfully easy-to-use photo app which became one of the Top 10 photo/video apps worldwide. Today the app has been downloaded over 300 million times and has 15 million monthly active users around the world. With a team of 85 based in Taipei, they search for ways to enhance user's creativity, and are at present dreaming up ways to use of AI towards this goal.
Michelle Casale
Cultural Influencer
Michelle Casale is a German-Italian entrepreneur who has lived in Taiwan since she was 17 years old. She is a polyglot who can speak 8 languages fluently including Japanese, Hindi and Vietnamese. Her bravery has been a role model for a lot of younger Taiwanese people, who want to experience life abroad. She worked and studied in Taiwan and simultaneously opened her own cake store in Banqiao, New Taipei City. After her arrival she directly decided to join a Taiwanese cake store and quickly became one of the main investors. The cake store gave her the opportunity to get to know the Taiwanese culture in a very unique way and she now uses her knowledge as an influencer and an entertainer to introduce Taiwan to the world. She is giving motivational speeches all around the island to motivate young people to follow their dreams.
Tiffany Chang
Research Assistant at Academia Sinica
Tiffany had two different career plans in high school. The first was to become a science teacher, and the second was to become a dance teacher. However, Tiffany ended up with a Biochemistry major in college and fell in love with science. Then she achieved a Master's degree at Columbia University in Biotechnology. After graduation, she worked as a researcher in Academia Sinica, the Taiwanese government-funded research institute. She works in the Biodiversity Research Center with Dr. John Wang, whose research interests are fire ants and nematodes. In her talk, Tiffany will introduce how communication works in fire ants.
Vivi Wang
Next Voice Tech Co-Funder and COO
Vivi Wang's diverse interests led her to be a multi talented businesswoman. She majored in Chinese at Soochow University, then transferred to Genome and System Biology at National Taiwan University. In 2021 she established the startup company Next Voice Tech, and in 2022 she planned and hosted the live podcast in ART TAIPEI. Up until now, she has hosted different podcast genres, including technology, visual arts, performance arts and science. In addition, she has written as a columnist in Economic Daily and been invited to give talks in many universities.