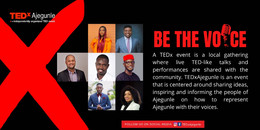 Change is not up to our politicians or religious leaders. It is up to you!
The big question is are you ready?
If you don't stand up today as the voice of change in your little corner, you will still not do so when you arrive at the big stage of life.
The hard truth is that to be a voice of change is difficult.
The harder truth is that you must not be on the stage or in politics to be a voice of change.
You can be the voice of change right NOW!
We know you want to drive change and make an impact but hey, there is a certain type of mindset to possess in order to do so.
That is why we bring you TEDx Ajegunle, a day event with seven strategic facilitators to speak your sleeping giant to life with proven principles.
If you want to be a part of the rising army from Ajegunle and its environs to make Lagos and Nigeria a better place, secure a ticket right now and get ready for the flight.
Payment method for registration:
2214498855
Agbaeze Samson
UBA
Or
Use the link to make payment.
https://bit.ly/TedxAjegunle
For enquiries
Samson +2348135836082
Precious +2347067758855
Speakers
Speakers may not be confirmed. Check event website for more information.
Alfred Konaughe
Founder, Ajegunle Development Centre
Alfred Konaughe is steadfastly dedicated to societal transformation and economic growth. He has overseen various initiatives in Ajegunle and beyond that have transformed the lives of countless people. He is a licensed educator with more than nine years of teaching experience. He holds credentials in leadership development, education, and entrepreneurship. He is the founder of the Ajegunle Development Center. the umbrella organization that oversees the Ajegunle Business School, the Ajegunle Tech Hub, and the Ajegunle Enterprise Trust Fund. The main goals of the Ajegunle Development Center are economic development and social reform. He recently completed a mini-MBA in Entrepreneurship Development at the Lagos Business School. He has won numerous awards for his business acumen and volunteer work in Ajegunle. The former deputy speaker and current member of the House of Representatives, Hon. Kolawole Taiwo recently named him one of the 50 most influential youths in Ajegunle.
Andre Garbutt
founder and lead trainer Hands-On Excellence Academy
Andre Garbutt is an educator, trainer and value-driven entrepreneur and soft skills professional with West African Vocational Education. An organization focused on leveling the playing field for young people to access the skills and opportunity to become what they imagine. He currently leads the training team at WAVE, He has over six years of experience in training over 1000 youth and getting them work-ready. A man popularly called "the man of the people" by his circles, he is bent on ensuring that young people live their best and achieve more. He is the founder and lead trainer Hands-On Excellence Academy and the convener of the Ajegunle Corporate Excellence Conference geared at bridging the gap between employers and job seekers. He is also the convener of Teach for Excellence Conference aimed at upskilling teachers with 21st century facilitation skills and the use of technology in education. Andre is an advocate of quality education and good governance across local communities.
Blessing Sunday
Founder and Lead Trainer at BUS Public Speaking Academy
Blessing Sunday is a communication Strategist, public speaking coach, speaker, writer and editor. She is the Founder and Lead Trainer at BUS Public Speaking Academy. A training organisation that is committed to raising dynamic and effective communicators. Blessing is the Communication and Marketing Manager at FATE Foundation where she manages the foundation's internal and external communication and implementing its storytelling strategies. Blessing holds a B.A in English from the Prestigious University of Ibadan and Masters in Media Communication from the prestigious Pan-Atlantic University in Affiliation with Lagos Business School. She has trained several business professionals from different industries, entreprenuers, and students. Blessing serves as a faculty member of different training centres where she facilitates sessions on Effective Communication. She has received several awards and recognition for her contribution to humanity and community development.
Emmanuel Osoteku
CEO, TEDOConsulting
Dr. Emmanuel Osoteku is an Award Winning Executive Leadership & Business Coach who has been featured on BBC, UK 🇬🇧 & he is a Recipient of Former United State of America (USA) 🇺🇸 President Barrack Obama RLC Leadership Awards. Emmanuel Osoteku is the Chief Executive Officer (CEO) of TEDOConsulting a Management consulting firm based in Canada 🇨🇦 & Nigeria 🇳🇬 which offers training and advisory services ranging from Corporate Governance, Executive Leadership, High Networking Events, Business Advisory, Tech Advisory and many more. Emmanuel Osoteku presently serve as the Dean & Director of Training at the biggest real estate academy in Africa, The BRG ACADEMY. A citadel of learning for over 75,000 to 100,000 real estate consultants and realtors where he engage them with the modern day technology, practical trainings with specific skills and in-depth knowledge they need to develop their expertise as a complete sales person in the real estate industry.
Project Director TLCI - Transforming Lives & Communities Initiative
Grace Nkwocha is an Education Equality Advocate and a post graduate student of education, MeadowHall College. She is the Project Director of TLC Initiative (Transforming Lives & Communities Initiative) where she organizes literacy and education equality projects so children in underserved communities can have equal access to quality educational resources and technology in order to bridge education inequality gaps. Grace is on a novel mission to establish "Children Libraries and Discovery Centres" within every 15 minutes walking distance in low-income communities in Nigeria and Africa towards its transformation. She has started with Ajegunle as her model community with over 850 registered children library users. She is a Fellow of President Barrack Obama's Young African Leaders Initiative (YALI RLC), a G20 Young Global Changer and a Semi-Finalist of Active Citizens in Education in Nigeria among other community awards. Her interest lies in Education and International Development.
Ifeanyichukwu Nwagbo
CEO Compiq Media
Ifeanyichukwu Nwagbo is a professional photographer and passionate business man based in Lagos. He is a Theatre Art graduate of University of Uyo. He is the CEO of Campiq Media and Co-founder of BrandTalk Africa, a platform that is dedicated to shining spotlight on African brands through enthralling visuals. He has been into photography business for the past ten years and have raised lots of people in the art. His passion is derived from his experience on street which has seen him do the unconventional.
Managing Director, HypeMan Africa.
Tosin Ikuyinminu is a young communication savvy whose career mission is to partner and work with brands, businesses and individuals in telling their unique story using digital solutions. His passion for corporate communication, digital marketing and business development made him started a brand development and digital media company called HypeMan Africa. He is known as a thought leader when it comes to the subject matter of Digital Media with proven vast experience in the industry for over 5years and has been recognized severally as one of Nigeria's young brightest minds. In 2021, he was nominated for the prestigious SME100Africa 25Under25 Awards under the media and communications category because of my commitment and consistency over the years in his niche. His brilliant perspectives on youth, media and social issues has given him the privilege to be hosted as a guest on BBC Global Questions, Television Continental(TVC) and Wazobia Max TV.