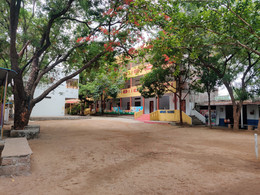 Topic No 1: How to educate first generation students? Challenges and solutions in giving quality education.
Topic No2: What are the signs of malnutrition in a child? Effects of malnutrition in child and solutions to reduce malnutrition.
Topic No3: New techniques and technologies that boost agriculture output while using less water and less land.
Speakers
Speakers may not be confirmed. Check event website for more information.
Professor
The Founder of Communication Champions Hub and the Two Times Josh Talks Speaker. Besides this, I am the Professor at BadaBusiness (An Initiative by Dr. Vivek Bindra) and an Entrepreneurship Mentor at CGI (Confederation of Global Innovators).
Secretary at Vandemataram Foundation
Secretary, Vandemataram Foundation - B.SC,LLB from Osmania University – a businessman by profession. Associated with social activities for the last 20 years. Vandemataram Foundation (VMF) was founded as an NGO established with an objective to build character,inculcate right values in the formative stage of a child in the under resourced schools in the rural and backward regions.The foundation works towards imparting quality and moral education for students' overall development. Today,VMF works in more than 250 schools in interior mandals of Warangal & Mahaboobnagar districts of Telangana. Making a village school the nodal point,Foundation builds teams consisting of village elders,youth & alumni of the school.These teams working in tandem with parents and teachers of the school actively involve the students in various constructive & creative activities.
Mounika Kethavath
Speak at Youth Parliament
A postgraduate student from Kamareddy district, Mounika, addressed the gathering at the Central Hall of Parliament on Sunday. She was among the 7 people selected to speak on the occasion of Good Governance Day, which is celebrated on the birth anniversary of former prime minister, Atal Behari Vajpayee.
Tulasi R
Academic Guidance Officer
Best lecturer awardee from Government of Andhra Pradesh