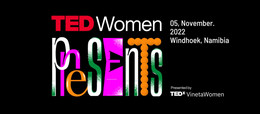 TEDxVinetaWomen presents a evening of invigorating talks from leading women around the country.
This gathering will elevate the ideas of women connecting accross generations to break the bias; inspire, ignite and uplift spirits.
Sharing personal stories, stimulating conversations, re igniting spirits with connections that are always the hallmark of the TEDxWomen experience.
Let us celebrate our differences embrace our diversity and the contrasting beauty of Namibia.
Together we can #breakthebias
Speakers
Speakers may not be confirmed. Check event website for more information.
Afra Schimming-Chase
Financial Advisor
Certified Financial Planner and Consultant. Financial Advisor, Wellness Coach, and Facilitator.
Anatoly Uulenga
Author and deaf community leader
Born profoundly deaf in a country with little support for the deaf community, Anatoly Uulenga went on to graduate with a Bachelor of Education. Only the second in his country, Namibia. Anatoly Uulenga is a book author and an "inspirational signer" - not singer. Anatoly Uulenga's journey to graduation is a true statement that determination can overcome any obstacle.
Dr. Esperance Luvindao
Doctor
Dr. Esperance Luvindao is a Medical Doctor, Healthcare Management Specialist, health advocate, award-winning Humanitarian, Forbes 30 under 30 2022, and holds an MBA from the University of South Africa. Dr. Luvindao received the Queen's Point of Light Award in 2022 for her role in healthcare. She is an international speaker and public speaking coach and owns a public speaking online university. She is an Executive and Management coach from the University of Cape Town, registered with the International Coaching Federation.
Retuura Ballotti
Human Capital Executive
Human Capital Executive in one of Namibia's top banks with a Master's degree in Organizational Psychology from the University of Cape Town.
Sonja Coetzer
IT Managing Director
Managing Director - or Majestic Dame- of one of the top IT Services and IT Consulting companies in Namibia. Leading a technology team of tech enthusiasts that believes in challenges, empowerment, and impact.
Zellmari Brandt
Media Brand Executive
Zellmari Brandts holds a Bachelor of Arts in Film which has landed her in theatre, events, radio, television, brand, and marketing but not yet in film. She works as a brand executive for a large media company in Namibia. Zellmari Brandts loves the concept of dreaming up stories or ideas, making them come to life, and sharing them with others, like making magic.
Zenzi Awases
Geologist Consultant
Geologist Consultant with over 16 years of experience in the mining industry of Namibia. One of the founding members of the Women in Mining Association of Namibia (WiMAN). Specialized in the diamond industry, in both alluvial and marine diamonds. Zenzi Awases has a particular interest in seeing more women in industries that have been densely populated by males, particularly in the mining industry, and enjoys training and mentoring young people, her real "diamonds".