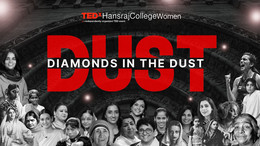 'I am no bird, and no net ensnares me; I am a free human being with an independent will.'
Are you ready to come aboard on the journey of these bold women finding their voices so that no woman has to be silent ever again? These are stories of resilience, stories of unwavering courage, stories that celebrate the very essence of being a woman!
TEDxHansrajCollegeWomen brings forth an event 'Diamonds in the dust'-to strike conversations about these powerful women finding their diamonds in the midst of the blinding dirt, who themselves are precious diamonds and always knew that a 'muddied diamond is better than an unsullied pebble'.
Speakers
Speakers may not be confirmed. Check event website for more information.
Kriti Ashish
Textile revivalist, an entrepreneur, and a literature-arts seeker.
Kriti Ashish is a textile revivalist, an entrepreneur, and a literature-arts seeker. She has worked on numerous projects for government and NGOs and has started a few of her own projects like KAAJ as the export house of BANDHANI and tie-dye, KIDSKEY as a platform for kids' education. Her venture COLLETTE PROJECTS works for power energy and infrastructures for the Indian north-eastern region and Ladakh. Always standing strong against her hardships and battles, her courage has always been her hope. As a Starseed healer, she chose working on "SOUL CONSCIOUSNESS " as her cosmic mission to make and motivate every soul on this planet to understand the truth behind life is to know LIFE IS COMPLETE IN ITSELF.
Ritnika Nayan
Country Lead in India for Downtown Music Holdings
Ritnika Nayan is the Country Lead, in India for Downtown Music Holdings, representing CD Baby, Fuga, Songtrust, Downtown Music Services, Found. ee, and Adrev in the country. She is also the owner of the company Music Gets Me High and the author of Indie 101 - The Ultimate Guide to the Independent Music Industry in India. Throughout her 21 years of experience in the music industry, she has worked with artists like Maroon 5, Nickelback, Guns & Roses, Manu Chao, Nucleya, Advaita, and Jalebee Cartel and also consulted on festivals like Sula Fest, Ziro festival of Music, Wonderflip fest and more. Ritnika has also set up India's first stand-alone Music Business Certification course at SACAC, Delhi, and conducts workshops on various aspects of the Industry under MGMH Academy and has won various awards including the contribution to the creative industry award by the University of Westminster, UK and the Young music entrepreneur runner up award by the British Council and more.
Ex-Army Officer + Entrepreneur
"In life, we all are entitled to not just one but more than one dream" The next speaker we have is Ritu Kumar Singh who believes just the same. She is an ex-Army officer, a mother of two kids, a motivational speaker, and a women's health coach. Born in a small village in Haryana, she always believed that she is moving forward on a journey to fulfill all her dreams. A lawyer, ex-Army officer and now working as a Women's health coach has helped her have a diverse outlook and to evolve from a shy little village girl to a confident woman ready to conquer every challenge that comes her way.
Captain + Pilot
"Once you start flying, it is difficult to settle on the ground. Flying changes you as a person and broadens your horizon" believes Captain Shivani Kalra! Having made a name as the 'Queen of Evacuation' for flying a plane with 249 students stuck in war-hit Ukraine and flying them back to the safety of their homes in India, Captain Shivani Kalra is the poster girl for 'Operation Ganga'.She has overcome all hurdles on her way, be it aviation as a dwindling business in a global economic recession or aviation being a male-dominated industry. She claims her success to the women in her family. A woman who likes to dream big, she is the inspiration of all other girls who 'dare to dream. To celebrate the dreams of all such women, we present to you the speaker of TEDwomen Hansraj-Captain Shivani Kalra!
Actor + Dancer
Shruti Sinha, a dancer in Dance India Dance's fifth season, emerged as one of the top 15 contestants. Later, she featured in an episode of MTV India's show Love On The Run. Sinha rose to fame when she participated in MTV Roadies Xtreme in 2018, MTV Splitsvilla in 2019, and MTV Ace of Space 2 in 2019. Sinha made her Bollywood debut through Mumbai Saga's song Shor Machega by Yo Yo Honey Singh and Hommie Dilliwala. At the age of 17, Shruti bravely managed to bust the sex racket and save the lives of many. Where such incidents occur, more women like Shruti need to stand up and raise their voices to impact and reshape societal stereotypes. To commemorate such women and give voice to oppression, we present before you our first speaker of TEDWomen Hansraj-Shruti Sinha.
Sufiya Sufi
Ulta Distance Runner
Sufiya Sufi is a 37-year-old ultra-distance runner. Starting from running 3km in the park of her society in April 2017, she did her first long-distance run challenge in March 2018. It was 720 km and took her 16 days to complete it. In 2019, she ran from Kashmir to Kanyakumari and took The Trans India Run Challenge. She ran almost 4000 km in 87 days (13 days before the world record timeline), became the fastest female runner to run from Kashmir to Kanyakumari, and set a new world record. In 2021, she completed her 2nd world record running challenge, The Golden Quadrilateral Run Challenge; it was 6000 Km long. She not just completed the challenge but broke the previous record by 82 days. After Golden Quadrilateral Run, she ran on one of the world's most challenging roads, The Manali to Leh Highway. In July 2022, she completed her 4th expedition, The Siachen-Kargil Run (470 KM in 6 days and 8 hours). It was a tribute run to the army Brave-hearts on the Kargil Vijay Diwas.
Chef + 40 Under 40
"If you are a chef, no matter how good a chef you are, it's not good cooking for yourself; the joy is in cooking for others. Vanshika Bhatia has demonstrated her ability to cook and bake since she was able to reach the stove. "Planning and preparing dishes for the day is an act of joy in my house," she says. Early associations with the sensorial power of food "It started with chai," Vanshika recalls, "that quintessentially 'Indian Home' beverage that could start conversations, dissolve debates, and help heal or soothe." Chef Vanshika's cooking style, like that of her maternal grandmother, is exploratory, centred on the search, mix-and-match, and layering of exciting flavours. Like her maternal grandmother, Chef Vanshika's cooking style is exploratory: revolving around the search, mix-and-match, as well as layering of exciting flavours. Ask her about her favourites, and there isn't an ingredient that Vanshika hasn't found something to love for.