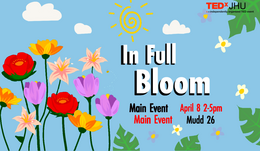 This event hosted at Johns Hopkins University by TEDxJHU will feature three speakers from the DMV area. The theme is "In Full Bloom" and each speaker will express how this idea has transcended into their respected fields of study and work.
Speakers
Speakers may not be confirmed. Check event website for more information.
Almira Zaky
Recording Artist & Songwriter
Almira Zaky is a 25-year-old R&B/pop singer, songwriter, and performer from Virginia. Almira began her journey as a vocalist at a young age and could be seen performing for thousands all around the DMV. She went on to attend VCU where she booked several acts at just 19-years-old. Almira was casted as a contestant to represent her home state on NBC's "American Song Contest" in early 2022. Her debut TV performance of "Over You" garnered over 505K views in 7 days. She describes her sound as modern R&B with pop-infused lyrics, and 90's/2000's rhythmic production. With an unapologetically-herself personality, outspoken lyrical skill, a commanding vocal range, she is sure to take the world by storm. Almira's talk is about her journey as an Indonesian R&B/Pop Recording Artist in the music industry. She reflects on all opportunities that she's been given and also opens up about her personal life - how she was able to overcome certain challenges by turning her pain into power and purpose.
Andrew Cameron
Surgeon-in-chief, The Johns Hopkins Hospital | Professor of Surgery
Dr. Cameron was born at The Johns Hopkins Hospital and raised in Baltimore. He received his bachelor's degree from Harvard College and his medical degree from the Johns Hopkins University School of Medicine, and his PhD from the Department of Neuroscience at Johns Hopkins University. He returned to Johns Hopkins in 2006 and is now leading the Department of Surgery as the director and surgeon-in-chief. As a Professor of Surgery, he has an active surgical practice in treating alcohol associated liver disease and hepatocellular cancer at The Johns Hopkins Hospital and maintains an NIH-funded research laboratory studying severe alcoholic hepatitis, as well as efforts to increase organ donation using social media. Dr. Cameron's talk will discuss the science of transplantation surgery with some discussion on xenotransplantation. He will also discuss an app he created to tackle the organ donation crisis. His app matches organ donors with individuals in need of organ donations.
Liz Vayda
Entrepreneur and Activist
B.Willow is a specialty houseplant and flower shop in Remington, Baltimore which opened in 2017. Liz received a Bachelor's in Psychology from Earlham College in 2009, and a Master's in Environmental Science from JHU in 2013. Her mission is to provide meaningful, insightful, and beneficial ways of sensorially engaging with nature on a frequent basis. With a focus on Baltimore, she works to integrate nature into people's homes, schools and organizations. She is especially interested in the conservation of plants in the wild, and regularly partners with the IUCN (International Union on the Conservation of Nature) to educate indoor plant enthusiasts about the illegal plant trade, as well as to organize fundraising efforts. Liz's talks is about the hidden truths of where our everyday houseplants come from, her efforts as a small business owner to ensure the sustainability of the plants she sells, and what consumers can do to make sure they're getting ethically sourced plants.