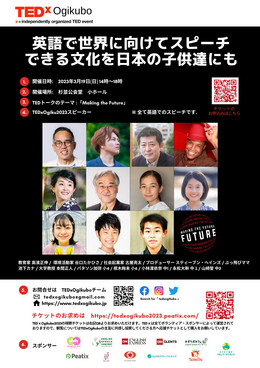 "Into the Future," an exciting TedxOgikubo event that will take you on a journey to explore the latest and most innovative ideas that will shape our world in the years to come.
Our speakers are leading experts in their fields, and they will share their insights and visions on the most pressing issues and opportunities that we will face as a society, including technology, healthcare, sustainability, and more.
Through their talks, you will gain a deep understanding of the emerging trends and disruptive technologies that are transforming industries and changing the way we live, work, and interact with each other.
This event is designed to inspire and empower you to take action and seize the opportunities of the future, whether you are an entrepreneur, a professional, or simply curious about the world we live in.
So, join us for an unforgettable evening of learning, networking, and innovation, as we dive into the future and discover the possibilities that lie ahead!