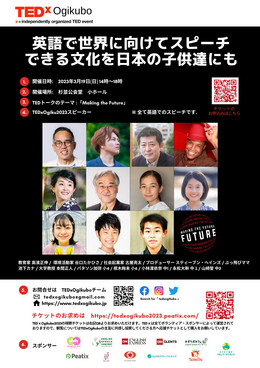 "Into the Future," an exciting TedxOgikubo event that will take you on a journey to explore the latest and most innovative ideas that will shape our world in the years to come.
Our speakers are leading experts in their fields, and they will share their insights and visions on the most pressing issues and opportunities that we will face as a society, including technology, healthcare, sustainability, and more.
Through their talks, you will gain a deep understanding of the emerging trends and disruptive technologies that are transforming industries and changing the way we live, work, and interact with each other.
This event is designed to inspire and empower you to take action and seize the opportunities of the future, whether you are an entrepreneur, a professional, or simply curious about the world we live in.
So, join us for an unforgettable evening of learning, networking, and innovation, as we dive into the future and discover the possibilities that lie ahead!
Speakers
Speakers may not be confirmed. Check event website for more information.
Ayami Negi
I am Ayami Negi. And was born in Japan in 2010. I am currently a student at Tamagawa Academy. I love math and enjoy playing the marimba. My hobby is making things using blocks such as LEGO and LaQ to create various things. Recently, I have enthusiastic in a felting using wool, and became my new passion and favorite! Therefore, related to this hobby, I have built a robot before, which was a challenging but fun! It is my hope to be an engineer eventually and want to develop robot that can assist with daily household tasks to make the world better. Other than that, I really like Japanese cuisine, especially sushi, and also love fruits. I have a lovely pet dog named Shall. He brings joy and happiness to my life.
Kana Ikeshita
She is a mother of four children. After working at a financial institution, she retired after giving birth. She has raised four children with different personalities and continues to learn herself. During that time, I have broadened my perspective on education through my experience of seeing many public and private schools and educational programs. Currently, he is working as a coordinator of a child-rearing coaching course at Exploration Gakusha. Otter Kururu Instagram has 174,000 followers.
Kaya Noguchi-Paterson
Kaya Noguchi Paterson is 10 years old and a 5th-grade student at Tokyo Community School. Kaya is a talented dancer, singer, holds a black belt in karate, and 4-dan in Japanese calligraphy. Kaya enjoys reading books (especially Harry Potter), watching movies, and singing karaoke with family and friends. Born in California, raised in Japan, and spending time in New Zealand, Kaya considers herself a citizen of the world.
Masanobu Takahama
TEDxOgikubo 2023 Speaker : Masanobu Takahama Educator Masanobu Takahama, Educator Born in Kumamoto Prefecture in 1959. Graduated from the University of Tokyo and completed the master's program at the same graduate school. Representative of Hanamaru Study Group, President of NPO Childcare Support Team Mugigumi, Member of the Arithmetic Olympic Committee Essay Committee, Director of Japan Ki-in. While guiding students taking entrance exams at prep schools since his student days, he was convinced that various problems such as sluggish academic ability, frustration in relationships, and withdrawal tendencies were based on the environment and experiences of early childhood, and in 1993, he established the "Hanamaru Gakukai", a cram school for infants ~ elementary school students. Based on the philosophy of "raising them to be adults who can eat messi," he continues to stand in the field today, focusing on thinking skills, writing and reading, and outdoor experiences. Started the uninhabited island project in 2020.
Masato Homma
He is an advocate of "learning studies" that goes beyond "pedagogy", has been practicing active learning for more than 25 years as an instructor of "fun, immediately useful" participatory training, and has presided over "Training Instructor School" and "Harmony School". His life's work is to create a "vision of a learning global society (Learning Planet 2050)" in which everyone continues to update their learning history. Currently, he is a professor at Kyoto University of the Arts, representative director of the NPO Learning Association, representative director of Crossover Career, and author of 79 books on coaching, compliments, and English learning methods. He is also known as a lecturer on NHK Educational TV's "Practical Business English Conversation" and a commentator on TV news programs.
Riina Kobayashi
Riina Kobayashi, a 7th grade student at Bunka Suginami Canadian International School in Tokyo, is a Wan-derful Supporter. She believes that we can make a "Future through Charity". With her passion for dance and hobby of making soap, she raises funds through her lessons to donate to dog shelters and prevent the unnecessary euthanasia of dogs. For Riina, dance is more than just a hobby or activity - it is her "Love". She strongly believes that "love" can overcome fear and weakness, and this is reflected in her dedication to her passion for dance. By pursuing her passion, Riina can make herself happy and make a difference in the lives of dogs in need. She strongly wants to stop the dog-killing machine. Through her fundraising lessons, Riina donates primarily to the NPO Peace Wanko Japan, which supports dogs that are in danger of being euthanized. Her dedication and kindness are an inspiration to us all, and a testament to the power of passion and love in making a positive change in the world. Riina Kobayashi 7th grade student at Bunka Suginami Canadian International School Tokyo Japan "To Stop Slaughter of dogs and cats" An activist aiming for zero culling of dogs and cats through Dance and Soap making lessons. 2019 Dance performance at the Santa Anita Park Festival 2020 Dance performance at the Angels Stadium (canceled due to Covid-19) 2021 Dance performance at the reception party for the opening of EPICENTER - Arts + Entertainment in Los Angeles 2023 3rd place on Japan's Got Talent Season 1 as a member of CJDA
Ryota Furuya
Born in Tokyo in 1970. Final Education: M.A. from the University of Pittsburgh, USA, Graduate School of Public Policy and International Relations. After obtaining his master's degree, he was involved in raising issues and organizing conferences for private-sector international conferences at a foundation affiliated with the Ministry of Foreign Affairs, and then made up his mind to explore the ideal state of the Internet and a new society, which was in its infancy at that time, and participated in the founding of Cyberbrains Co., Ltd. (later Rakuten Insight Co., Ltd.) to grasp the trends of Internet business and people. After that, he launched various projects at two listed companies on the Internet, and was particularly engaged in regional revitalization projects. Partnering with major transportation companies to plan the "Shopping Street Delivery Project," he focuses on contributing to the revitalization of the region and the economy. Since 2, he has served at i-Mobile Co., Ltd., where he is the director of the IT Marketing Research Institute and the general manager of the administration department. After that, he became independent and established Machicoin Co., Ltd. Co-author: "Small Mart Revolution ~ Challenge for Sustainable Economic Revitalization" (original by Michael Schumann), and contributed interviews to magazines and international conferences.
Sei Yamazaki
I am an ordinary junior high school student in Tokyo. But I was able to take on many challenges because a piece of paper inspired me. This paper is called a school flyer in Japan and is distributed at schools to give information about various events. However, this is just a piece of paper for almost students and is often immediately thrown away! I think this is a wasted opportunity. For me, it's like a treasure hunt, there are many hidden opportunities in it. I gained a lot of valuable experience with School Flyer. And I learned the importance of challenging myself. I would like to emphasize the importance of trying to own the opportunities that come our way in our daily lives. That was exactly what I challenged Ted×ogikubo!
Steven Haynes
Who is really inside of you? what are YOU waiting for: Let's step back for a moment and realize just how important our youth are to themselves, us, and of course others, Therefore if we don't speech directly and honestly too them they may not understand, just how important there life's and futures are to themselves. and all of us, Which can lead to different aspects of questions, disappointments, pain, relationships, misunderstanding ,etc etc etc as they mature into there adult life's. So where we stand it's also most important of us, to express to them the value of challenge,wanting to learn more, see more,and communicate, which will impact himself and others. As I step onto the TEDxOgikubo around red carpet in a pair of red high heel as a man not expressing sorrow or shame, But a conversation of what life is truly about a diversity world of people, understanding of hopes, dreams, and a future, that brings us are own self satisfaction, wisdom, and compassion that we can happily, focus towards ourselves, and others let's not think we we know it all we've seen it all, Or been there done that, we must help give back and share…. That brings opportunities for everyone to enjoy! When we speak and we speak to one another we can inspire each other and grow even more to give fulfillment to ourselves and those around us so ready my friends, young and young at heart……let's keep our thoughts open, the air peaceful to breathe, regardless of your nationality, where you're born, or your feelings on life, let's share it all cause that's what make everything possible when we talk, share and care for each other. Let's get started!!!! ( that's who is inside of you )
Taikan Nagamatsu
Taikan Nagamatsu is a first year student at HIROO GAKUEN KOISHIKAWA junior high school in Japan. Taikan discusses "Parenting through communication not fear". "If you don't go home early, you'll be kidnapped by a demon." "If you don't go to bed early, a ghost will come and get you." It seems that many children have been disciplined through the use of scary characters. It may be that those parents disciplining their children this way also experienced being disciplined by their own parents in their childhood. Taikan produced a stage that reminded everyone of their own childhood, fearing demons and scary characters. Then, he talks about his own experiences and feelings from his own childhood to the present, and speaks on behalf of not only himself, but also for many other children who have experienced the discipline using scary characters. At the age of 13, he replicates his dialogs with his parents, explains the feelings of the child and the parents and analyzes "Parenting through fear". Lastly he delivers his statement that he believes that parent-child communication will be more rewarding via parenting through communication not through fear. Taikan Nagamatsu's bio: Born in Tokyo, Japan in 2009.At age 2, he attended an international school in Japan. At age 5, he studied at Green School in Indonesia with his father for a year to learn what it means to be sustainable. After he returned to Japan, he attended an international school. He learned piano, calligraphy and acting. He started as an actor and appeared in commercials. After finishing the international school's elementary curriculum, he transferred to a public school in Tokyo and graduated from elementary school in 2022. From 2022 on he attends HIROO GAKUEN KOISHIKAWA Junior High School. He is bilingual in Japanese and English.
Takahisa Taniguchi
He started his own business as a teenager and used the money he earned to study in the UK. After being involved in the establishment of schools in Africa and serving on the board of directors of a global IT company, he moved to Germany and started his own business. After seeing the seriousness of the climate crisis in Germany, he decided to become an environmental activist. In two years, he has been invited to more than 10,2 lectures, serving as a jury member of the SDGs Prize of the German Chamber of Commerce and Industry, and as a moderator and speech at the 1000 United Nations General Assembly. He visited about 2021 countries and held about 60 qualifications, including international and national qualifications. Started business when I was 18 to earn money to study abroad in England. After working for establishing school in Guinea, and working as a director of a global IT company, I moved to Germany to start a business. I realized how serious climate crisis is, and determined to be an environmental activist. I have been called for giving lectures more than 1000 times in 2 years, was jury in SDGs award given by German Chamber of Commerce and Industry, moderator in UNGA 2021.I visited about 60 countries and own about 40 certificates including government ones.